By Equipment World Staff
Schooling crews in safety
Summer internships boost firm's auditing capability
Looking for a new way to promote safety awareness, John Kiely, president of New Jersey-based J.F. Kiely Construction, hit upon an unusual idea. Why not enlist summer interns? The 58-year-old firm – which performs gas, water, electric and sewer installation and specializes in directional drilling, high pressure tapping, pipe welding and plastic fusion – had employed summer interns for construction jobs in the past. Over time, liability issues and the training requirements associated with utility construction forced the company to shelve much of the internship program.
Now, the interns, mainly engineering or accounting students, conduct toolbox talks and jobsite audits under the close supervision of the company's health and safety department. "It's a really good fit," Kiely says. "We're in the Northeast, so our busiest time is during the summer, when there just happens to be lots of motivated college students looking for employment. It helps promote young people, and it helps promote the industry."
Although the three interns employed this summer have no supervisory control over the workers, they are provided with a checklist of the most-cited OSHA violations and they report what they find on the jobsite to safety director Andrew Thomson and risk manager Tom Beatty. Adding the interns to the department allows for more jobsite visits during the company's busiest time. James Pagano, director of business development, estimates the interns audit between seven and eight crews each day across a four-county area. Pagano says the constant training and oversight provides employees with the most current information available. "The continuous safety reminders – toolbox talks – provide our employees with the most current information available and keeps the information fresh in their minds," Pagano says. "The toolbox talks are specific to our employee's line of work, and they appreciate the timeliness of the information." Kiely considers it a win-win situation. "Our work crews receive the benefit of extra safety reminders and college interns gain valuable job experience before careers in construction," he says.
Pagano sees the program as a benefit for the interns, as well. "They get real-world experience, and take a better sense of the workplace with them when they return to class," he says.
– Amy Materson
Industry Briefs
Oberhelman heads Caterpillar
Caterpillar has named Doug Oberhelman CEO and a member of the board, replacing Jim Owens, who remains chairman of the board of directors until October 31, when he will retire.The move was part of the company's succession plan and Vision 2020 strategy.
Oberhelman, 56, formerly served as group president with responsibilities including engines and gas turbines, human services, rail services and remanufacturing divisions. He has also served as Caterpillar's chief financial officer. Oberhelman has been with the company since 1975.
In other news, Cat announced it would increase its mining segment commitment, investing nearly $700 million through 2014. The company will produce a full range of shovels, ranging from 125 tons to 800 tons, in Aurora, Illinois, and as-yet-unannounced plants worldwide. The company is also accelerating its planned capacity expansion for mining trucks at its Decatur, Illinois, plant. And, citing initial customer interest, Cat plans to increase its planned 2011 build rate by 40 percent for the 345-ton 795F AC electric-drive mine truck.
Case builds 250,000th skid steer
Case Construction Equipment, which has been building skid steers since 1969, has reached its 250,000th skid steer milestone. The firm manufactured its 100,000th skid steer in 2000. Case's 400 Series 3 skid steer loader line includes eight models, ranging from 57 to 83 net horsepower.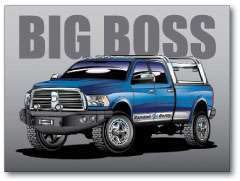 Project Big Boss
To celebrate the launch of ProPickup, our latest magazine, we're taking a new Dodge Ram Crew Cab with a Cummins 6.7-liter diesel engine and configuring it as the ultimate construction truck. Check out the first installment of the project in our digital issue.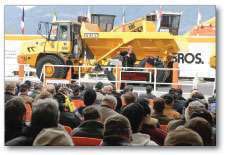 Open for bids
Did May's Reporter story on auctions catch your attention? Check out the full story on how auctions can help you manage assets and create professional partnerships.
Weigh in …
Take our poll! Visit www.EquipmentWorld.com and scroll down the left side of the homepage.
Our current poll:
How is your business doing this month compared to last month?
Results from last month's poll:
Have you received a direct or indirect contract for a project funded by stimulus funds?
* Yes, direct contract
* Yes, indirect contract
* No
Network with us!
Connect with EW on facebook and LinkedIn.
Enter "Equipment World" in the search field, join the group or "like" EW and stay updated on news and events while networking with fellow industry members.