Case launches 'Swiss Army knife' for military
You know your equipment is tough, but can you imagine dropping it from the sky? That's just what Case Construction Equipment has done with their latest model of skid steers and compact track loaders.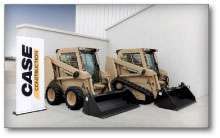 Designed for military use and produced under a 10-year contract with U.S. Army Tank-automotive and Armaments Command, the M400T compact track loader and M400W skid steer must be capable of withstanding an air drop into a military theater, or moved via helicopter swing. Equivalent in size and general specifications to Case's 420 Series 3 models, the units have undergone rigorous testing, including drops at CNH's Wichita plant.
The difference between these machines and a civilian unit go deeper than the tan paint. The military versions feature a chemical agent-resistant coating, starts cold at minus 25-degrees Fahrenheit and come equipped with a weapons rack. And diesel fuel won't work – these loaders have a Case-designed engine that allows them to run on jet fuel.
Case will manufacture up to 1,500 M400T compact track loaders and 1,900 M400W skid steers over the length of the contract, and they're likely to be popular with the troops. "You may see a skid steer, but I see a Swiss Army knife," said LTC Darrell Bennis, U.S. Army. "Once the soldiers get a load of these, everybody's going to want one."
– Amy Materson
Golden shovels don't lose luster during the recession
The economic downturn has hurt construction, but it hasn't made a scratch on the golden shovel business.

While many businesses saw a decline in revenue over the past few years, Golden Openings in Urbandale, Indiana, says the golden shovel business is better than ever. In the past two years, Golden Openings made more than $1 million in sales and hired another staff member to help maintain the high demand for business.
Since 2007, the number of grand openings and groundbreaking ceremonies has grown. According to Google Analytics, more searches and Internet news articles about groundbreaking ceremonies and grand openings appeared since 2007 than any of the years before the recession began.
How does a business that sells novelty items increase revenues during a recession? Kimberly Baeth, owner of Golden Openings, says even downsizing, merging or moving is still an occasion for a grand opening. EW
– Allison Cook
Word for word
"A lot of girls don't think that construction is for them. They think big machines, big guys."
– Laura Kelley, National Association of Women in Construction board member, to the Post and Courier (Charleston, South Carolina) about a non-profit event that teaches girls about careers in construction.
"The whole record-keeping system was not existent then. Utilities are quite serious when they say 'call before you dig.'"
– Newark service director Kathy Barch, to the Newark (Ohio) Advocate about crews finding unrecorded utility lines, sewer units and fuel tanks during projects around structures dating back to the 1800s in the downtown area.
"Growth in billings is really an irrelevant indicator because the economy and the construction sector are undergoing a structural change. If that is the case then all bets are off. You can look at some of the old metrics but you really can't have a high level of confidence that they are telling what they used to."
– Architect Chris Giattina of Giattina Aycock Architecture Studio, to the Birmingham (Alabama) News, about assessing bellwethers of an economic recovery.