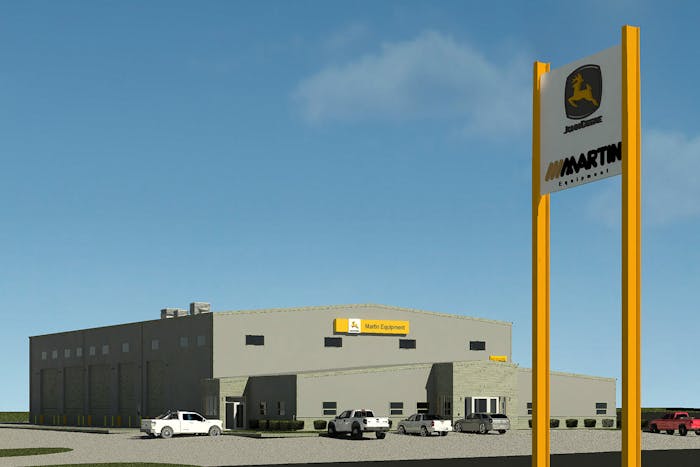 Martin Equipment of Illinois
Deere/Hitachi dealer Martin Equipment of Illinois has broken ground for a new facility in Columbia, Missouri. The 21,000-square-foot building is expected to be completed in February 2022, with the full-service facility open to the public by the spring of 2022.
The Columbia location, being built by Vissering Construction, Streator, Illinois, will be more than triple the size of Martin's current 6,500-square-foot space in Ashland, Missouri. The facility will have eight service bays with large-capacity cranes to accommodate production-class equipment. It will also increase the in-stock parts capacity by at least 300%, the company says.
"Our customers deserve a dealer that partners with them and their iron in a big way," says DeLene Martin Bane, Martin Equipment president. "We are proud of and offer some of the best service, sales, and support in the entire area, and now our new state-of-the-art facility will match our employees' extensive capabilities."
Martin Equipment is a fourth generation, family-owned dealer headquartered in Goodfield, Illinois, with 200 employees and 10 locations across Iowa, Illinois and Missouri. The firm started in 1928 as Sam F. Martin Equipment in Roanoke, Illinois.
McClung-Logan joins Prinoth dealer network
McClung-Logan of Maryland will now represent Prinoth in Maryland and Virginia.The company will sell, rent and service Prinoth's line of Panther crawler carriers.
With more than 80 years in business, McClung-Logan now has 10 full-service locations.
Chadwick-Baross adds Atlas material handlers
The SMH Group US says it has added Chadwick-Baross to its Atlas material handler dealer network, giving the dealer the additional markets of ports and scrap processing.
Chadwick-Baross also has a footprint in the general construction, mining, quarrying, utility, industrial, forestry markets. The Volvo Construction Equipment dealer has eight locations in Maine, New Hampshire, Vermont, Massachusetts, Connecticut and Rhode Island.
Atlas material handlers include mobile industrial machines and industrial tracked machines.
Auto Crane taps Mid-Atlantic Waste Systems
Mid-Atlantic Waste Systems will now offer the full line of Auto Crane products and services throughout its entire service area, including Virginia, Maryland, Delaware, the District of Columbia, New Jersey, Pennsylvania and West Virginia.
Mid-Atlantic, founded in 1985, offers refuse, service crane and recycling solutions. It now has 100 employees across eight locations.
MANUFACTURERS
Metso Outotec and AM King form global service agreement
Metso Outotec and AM King now have a global agreement covering spares, wears, repairs and field service agreements for AM King-brokered mill and crusher sales. Metso will provide aftermarket solutions, certified inspections and warranty and maintenance services.
Worldwide, Metso has more than 3,000 field service professional and 140 service centers. AM King "manages the largest global inventory of unused and used mining assets in the world," says Metso.