Volvo CE
Volvo Construction Equipment has named Alta Equipment as its 2020 Dealer of the Year for North America. It also recognized Ascendum Machinery as its 2020 Uptime Dealer of the Year.
Volvo CE says Dealer of the Year recognizes dealership that "best promotes the Volvo brand and the company's core strategies: to provide the highest uptime in the industry, offer unique customer solutions and ensure the best value at any stage in a machine's lifecycle."
"The 2020 Dealer of the Year award shouldn't come as much of a surprise given Alta Equipment's notable successes and recent bold investments," says Stephen Roy, president of Region North America, Volvo CE. "They continue to demonstrate their commitment to the construction equipment industry through their 'customer first' and 'uptime matters' mantras, plus their ability to replicate and execute that commitment into new territories."
Based in Michigan, Alta has 55 locations in the Midwest and on the East Coast from New England to Florida. Publicly traded, the company acquired several dealerships in recent months, including Vantage Equipment and Howell Tractor.
Volvo CE says Alta was able to grow its market share in several machine categories as well as market segments, including compaction, heavy infrastructure, mining and material handling.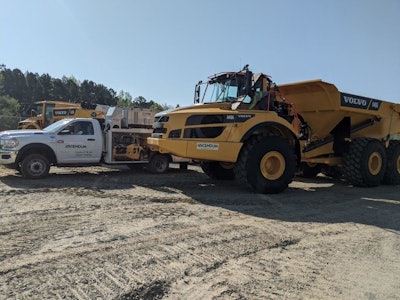 Ascendum Machinery received Uptime Dealer of the Year honors for demonstrating its service commitment pledge to provide customers "unrivalled service and support," says Volvo CE.
The company keeps an off-the-shelf parts availability rate of 90% and it enrolled 95% of eligible machines in Volvo CE's ActiveCare Direct telematics service.
Based in North Carolina, Ascendum Machinery has 15 locations in the Carolinas, Georgia, Tennessee and North Dakota.
Marshall Machinery represents Kobelco in Pennsylvania
Marshall Machinery, with three locations in Honesdale, South Abington Township and Tannersville, Pennsylvania, will represent Kobelco Construction Machinery in the state.
Marshall recently expanded to a 25,000-square-foot facility, added a third location and will offer Kobelco's line of excavators. The dealership serves the construction and agricultural markets.
LiuGong taps CrossTrac Equipment

LiuGong
LiuGong North America has appointed CrossTrac Equipment as its dealer for northern Wisconsin and Michigan.
CrossTrac, with locations in Rhinelander, Wisconsin, and Gaylord, Michigan, provides equipment and service to the pipeline construction industry. The company, which is headed by Scot Jenkins, owner and president, also serves the forestry business and now plans to serve construction customers.
CrossTrac will offer LiuGong's wheel loader, compact and full-size excavators, and later this year, LiuGong's Dressta dozer line.
H&E relocates Norfolk branch to Chesapeake
H&E Equipment Services has relocated its Norfolk, Virginia, rental equipment branch to Chesapeake, Virginia.
The 10,000-square-foot facility sits on 2 acres and features a fully fenced yard area, offices, parts warehouse and a four-bay repair shop. The facility serves customers in southeast Virginia and northern North Carolina.
"Our rental fleet has grown by $4 million in the past six months, giving us the capability to grow with our current clientele and bring on additional business," says Michael Berger, branch manager.
In addition, the company's nearby crane branch has been renamed Chesapeake Crane.
MANUFACTURER NEWS
Cat moves division to Dallas
Caterpillar is moving its Electric Power Division to the Dallas-area, shifting offices now in San Diego, California, Tucson, Arizona and Lafayette, Indiana. The new office will be headed by Jason E. Kaiser, division vice president.
The division manufactures and sells generators among other products.
Terex Q1 shows 4% sales gain
Terex Q1 2021 results show net sales increased 4%, from $864.2 million compared with $833.6 million during the same time last year. Due to improved market conditions and operational execution, Terex has increased its full-year sales outlook to approximately $3.7 million.
John L. Garrison Jr., Terex chairman and CEO, says the company's aerial work platform segment "continues to improve its execution and operating margin while meeting strong customer demand."