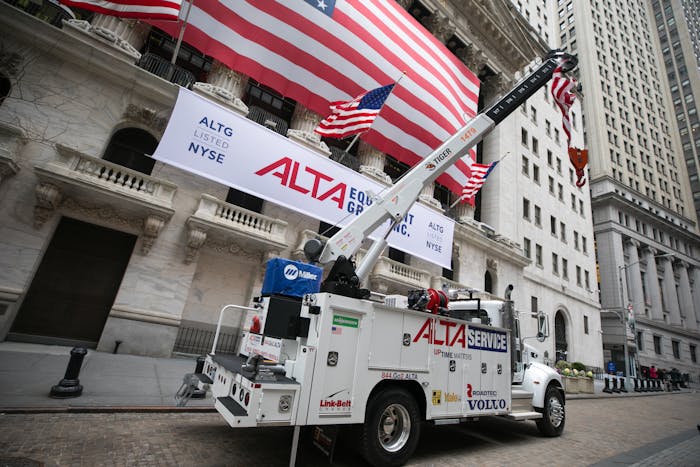 Alta Equipment
Also: News on Easton Sales and Rentals, MGMT Group and Pathfinder Power Solutions.
Releasing its Q4 and 2020 results, Alta Equipment Group says it grew 57% year-over-year in 2020, and 66% in Q4 compared with the same period last year. Construction equipment revenues were $440 million during the year, while the company's material handling equipment revenues were $433 million.
"In looking at the full year, we were able to persevere in a difficult and unprecedented time through the dexterity of our business model and operational discipline," says Ryan Greenawalt, Alta CEO. "We were also able to complete seven accretive acquisitions that increased our existing market presence, expanded our product lines and OEM relationships, and complemented our organic growth."
Organically, Alta says its new and used construction equipment sales increased about $8 million, or 29% year over year. Construction parts and service sales increased more than 8% and rent-to-rent revenue decreased 3.4%.
Alta acquired Vantage Equipment and Howell Tractor and Equipment in the fourth quarter, bringing the company a total of seven acquisitions during 2020. The acquisitions contributed approximately $390 million in revenue. The company now has 54 locations throughout Michigan, Indiana, Illinois, Massachusetts, Maine, New Hampshire, Connecticut, New York, Vermont, Florida and Virginia.
It says it ended the year with more than 900 skilled technicians, an increase of more than 250 technicians year over year and representing roughly half of its total headcount. Alta has a $42 million parts inventory, according to its earnings presentation.
Alta lists the following as its M&A objectives:
Consolidate independent dealers
Target those with highly-skilled technicians
Generate operating leverage by acquiring geographically contiguous businesses that can be improved by Alta's systems and processes
Acquire new OEM relationships to offer additional brands and expand equipment product suite
Expand selectively into complementary
Alta is a Volvo Construction Equipment dealer and offers Gehl, Genie, JCB and Merlo, among others. It also carries Hyundai, Kubota, and New Holland and LBX brands in select markets.
Easton Receives Terex Trucks' Top Dealer Award
Easton Sales and Rentals, with locations in Houston and Albuquerque, has been given Terex Trucks' 2020 Top Dealer Award. Easton was recognized for "outstanding results" and selling a "significant Number of Terex Trucks TA300 and TA400 haulers.
"Despite the Covid-19 pandemic, we experienced strong demand for Terex Trucks haulers and had a great number of total orders in our books," says Jeff Udelson, owner of Easton Sales and Rentals. He also cites the product's low total cost of ownership and Terex Truck's competitive lease program, offered through Volvo Financial Services, as factors in its success. Founded in 2009, Easton sells and rents earthmoving heavy equipment to a variety of industries, including construction and roadbuilding.
"We expect the demand for construction equipment in North America to pick up in the second half of 2021," says Daniel Meara, regional sales manager for Terex Trucks, "and we're glad to know that with Easton, we have a great partner in the market."
Hydrema adds MGMT Group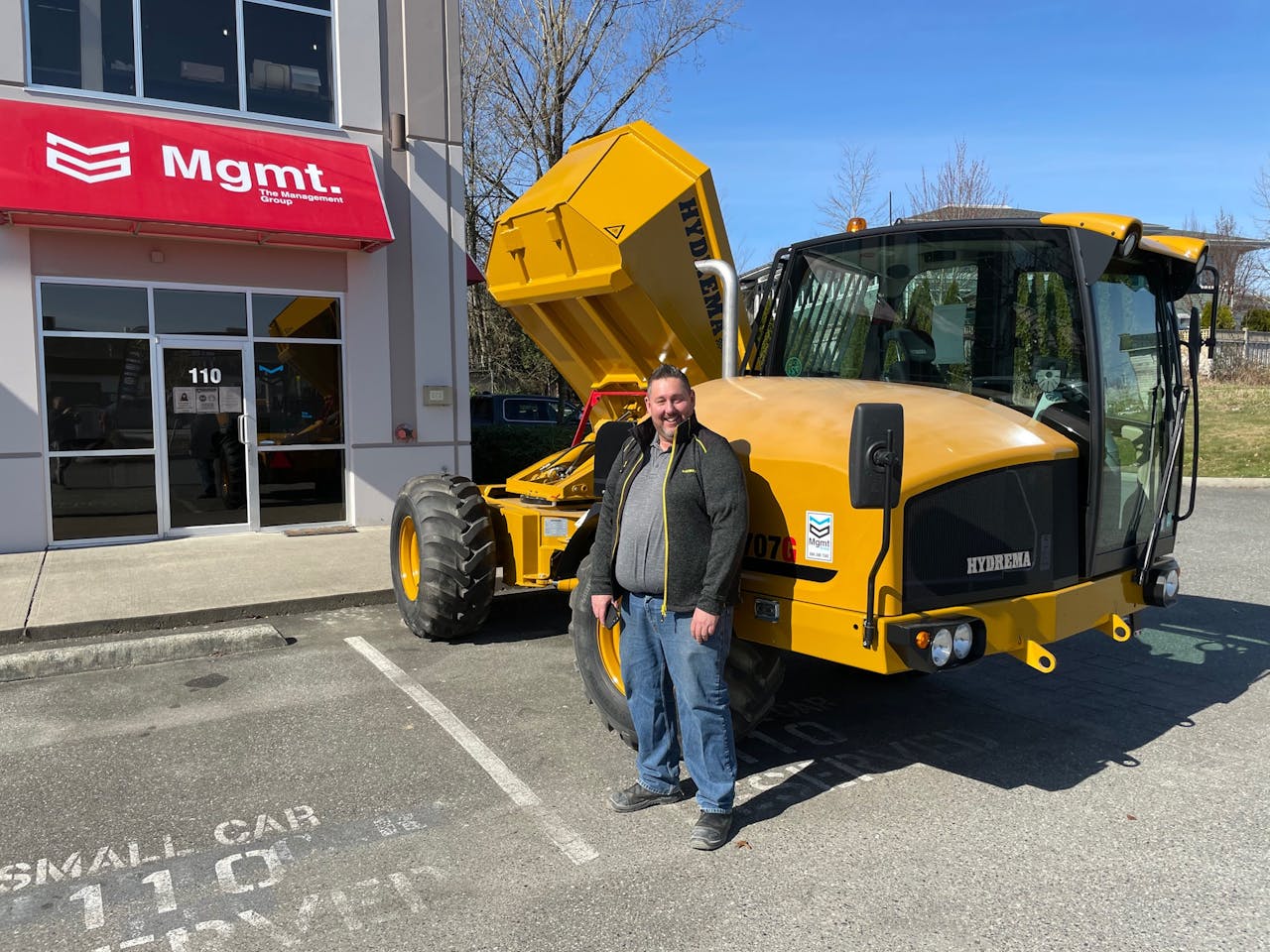 Mike MacKenzie, sales manager of MGMT Group, with a Hydrema 707G articulated dump truck.Hydrema
Hydrema North America has added MGMT Group, which will support the company throughout the lower mainland of British Columbia from its Surrey, British Columbia, location.
MGMT will carry the company's entire line, including articulated dump trucks, backhoes and wheeled excavators. Hydrema's artic line ranges from the 7-ton 707G to the 24-ton 922HM.
The company also offers six models of backhoes, which have a 280-degree digging range, and range from 15.7 feet to 17.4 feet in arm reach. Hydrema's four models of MX-series wheeled excavators are designed to work in confined spaces, and range from 34,612 pounds to 44,092 pounds.
Perkins adds Pathfinder Power Solutions
Pathfinder Power Solutions, based in the greater Atlanta area, is now a Perkins Engine distributor for the Southeast region of the United States. Under the leadership of Trey Googe, president and CEO, and Billy Holley, senior vice president, Pathfinder has identified future customer service locations, which will be announced later.