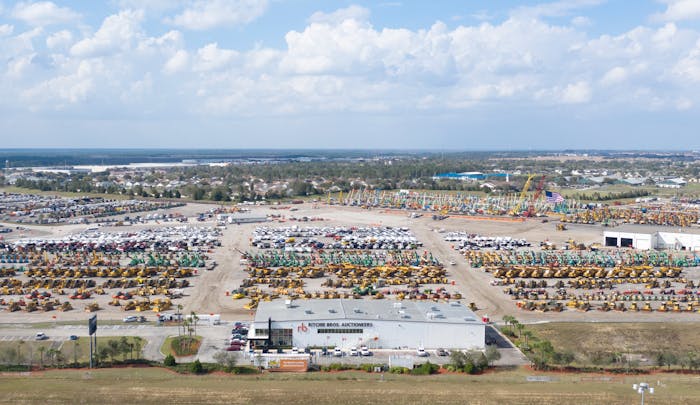 Ritchie Bros.
The supply and demand picture coming out of the Ritchie Bros. signature Orlando sale on Feb. 15-20th offered some intriguing insights on what might be shaping up to be an interesting auction year.
First, the number of bidders was up. Way up.
Last year, there were 18,000+ bidders combined for Ritchie's live event and in online bidding. This year, everything went online in response to the Covid-19 pandemic, and there were 22,000+ bidders, an increase of 25%.
"Our February Orlando auction is our premier event each year, attracting thousands of buyers and sellers bidders from around the world," says Jake Lawson, senior vice president (US South), Ritchie Bros. in a statement to Equipment World.
"Moving to 100% online, our digital marketing teams have been able to drive unprecedented demand as we registered 25% more bidders compared to the same auction in 2020. We saw very strong pricing in Orlando this year, with the strongest performers being truck tractors, skid steers, loader backhoes, and excavators."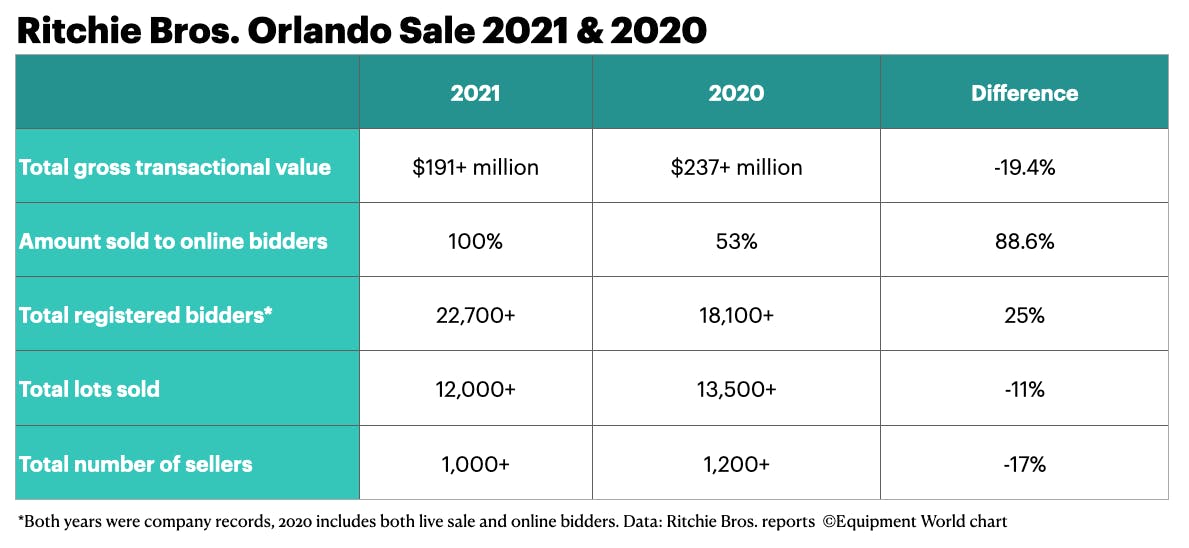 These bidders, however, had less equipment to bid on. There were 200+ fewer sellers and 1,500 fewer lots on the block this year, in comparison with record numbers of both sellers and lots in 2020. Looking at individual machine types, most major categories saw double digit declines in the number of units for sale (see chart below).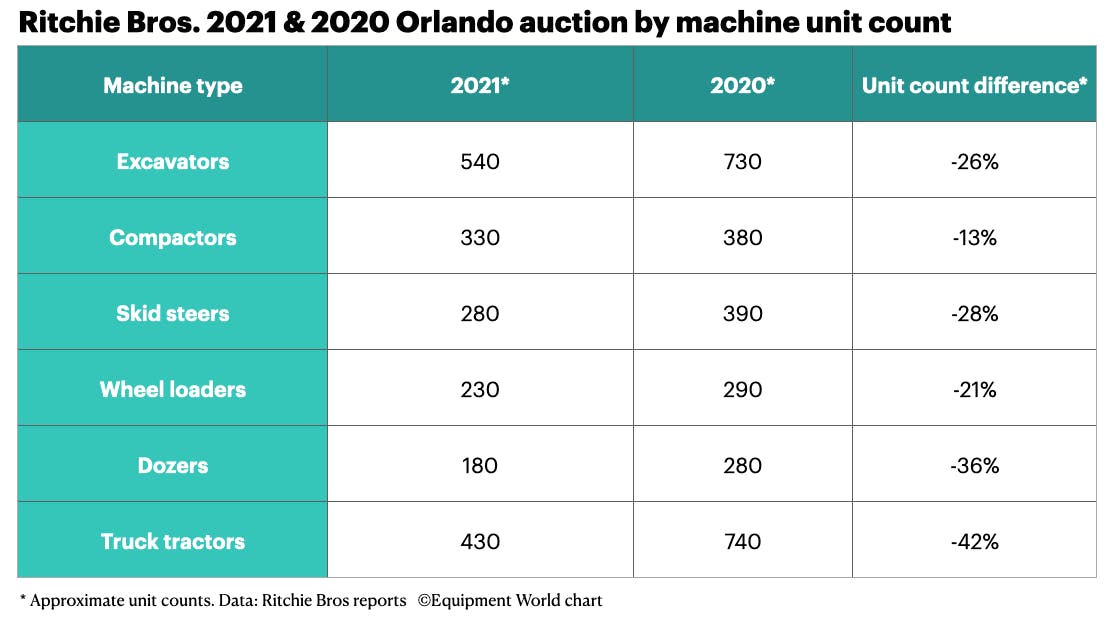 Fewer machines also had an impact on Ritchie's total gross transactional values, which went from $237+ million in 2020 to $191+ million in 2021, a decrease of 19.4%.
Prices
Did fewer machines and a higher number of bidders create a classic supply-and-demand scenario, with sellers getting higher prices?
The numbers reported by the Rouse Services division of Ritchie indicate results varied by machine type. Rouse compared the Orlando sales results with its Rouse Forced Liquidation Value (FLV).
The FLV on a machine is the prevailing auction sales price benchmark for an individual unit sold at auction. It only includes units with a valid make, model, and model year in the past 10-year time frame validated in the Rouse database.
Rouse says the "average sales price/FLV" shown in the following charts is arrived by first calculating the Rouse FLV on on individual unit, then dividing the sale price on that unit by the Rouse FLV and then taking a straight average of this ratio for all units within a machine type.
For example, the average sales price/FLV for small and medium excavators (Including compact and midi-sized units) was 99.7% of the Rouse FLV. This can also be interpreted as on average, sale prices were 0.3% lower than the Rouse FLV.
The average sale price of the small-to-medium earthmoving segment (including excavators, dozers, wheel loaders, compact track loaders, backhoes and skid steers) in the Orlando sale was 102.0% of Rouse's overall FLV index. In this segment, compact track loaders had the highest average sale price/FLV at 106.1%, followed by wheel loaders at 104.1%.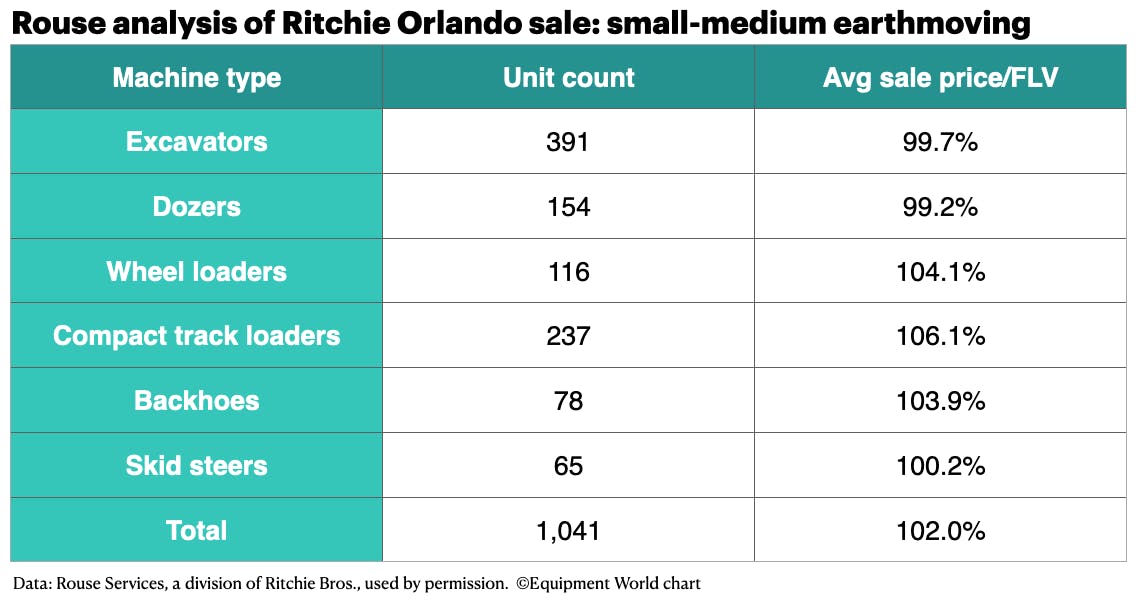 In the large earthmoving segment, the Ritchie overall average sale price numbers were lower, at 97.9% of Rouse FLV index. Motor graders (105.4%) and articulated trucks (103.6%) generated the highest values in this segment.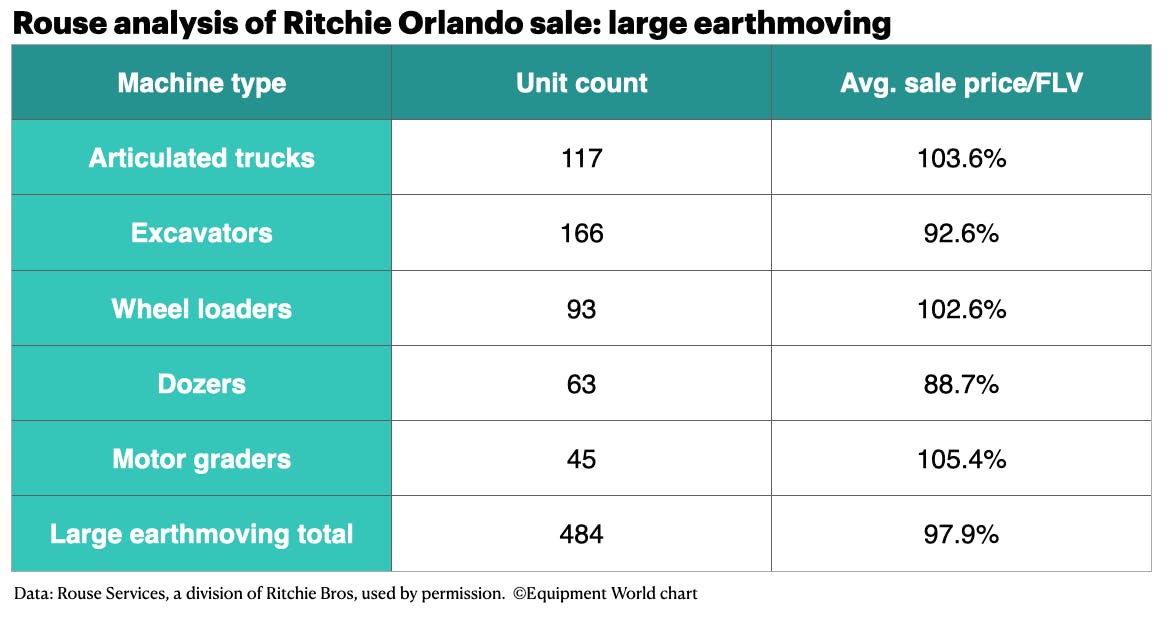 Ritchie comments
Ritchie called the 2021 sale a "spectacular success," noting it was the "largest-ever 100% online equipment auction."
"There was "strong pricing across every asset category," said Ann Fandozzi, Ritchie CEO, who took over the helm right before the company's 2020 Orlando sale. "This continues the positive pricing trend we saw at the end of 2020 and earlier this month in Houston."
Ritchie called the sale a "hybrid event," which machines were stored and available for inspection at its Orlando facility up to the sale, but all bidding was conducted online.
Ritchie says it set new records for online page views (2.9+ million and up 18% year over year), watchlist adds (177,000+ and up 54% YOY), and its PriorityBid service (53,700+ and up 316% YOY). PriorityBid, which debuted at the company's 2020 auction, allows bidders to place online proxy bids before the sale.
U.S. buyers bought about 82% of the equipment sold, including 18% purchased by Floridians. International buyers, including those from Australia, Germany, Egypt and Korea, purchased the remaining 18% of equipment.
The press release on the Orlando auction quoted buyer Dave Sides, fleet coordinator for Alabama-based B&G Equipment Supply, as saying auction prices "exceeded our expectations by 15 percent."
Top sellers
Some of the equipment gaining top dollar during the sale included:
$630,000 for a 2017 Peterson 5710D crawler horizontal grinder with 3,272 hours that sold on opening day to an online buyer from Georgia.
$460,000 for a 2015 Cat 374F L excavator with 2,698 hours, sold to a buyer from Michigan. This item was located offsite and was not in the Orlando yard.
$335,000 for a 2012 Kobelco CK16000G 160-ton self-erecting crawler crane with 16,481 hours, sold to a Florida buyer.
$325,000 for a 2015 John Deere 1050K dozer with 982 hours that sold to an Orlando-area buyer.
$290,000 for a 2019 Cat 745 6x6 articulated truck with 5,757 hours to a buyer from Ontario, Canada.