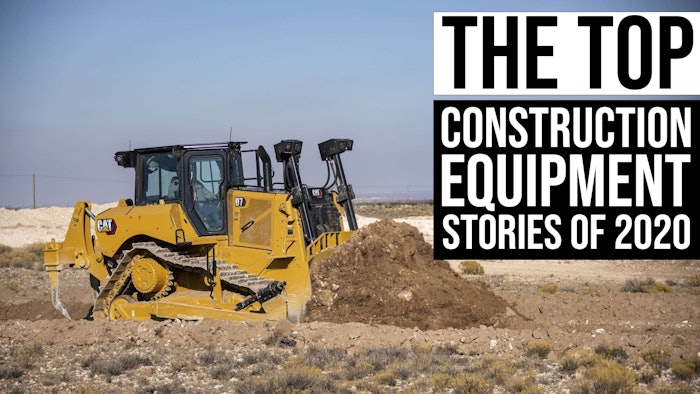 Top Roadbuilding Equipment of 2020
Equipment World editors chose a listing of the top roadbuilding products of the year. The list includes pavers, compactors, milling equipment more.
To see the list, click here.
---
The Biggest Construction Equipment Stories of 2020
Throughout the year we've been in close contact with both contractors and equipment manufacturers and though the work they do is different, their end goal is the same: keep their people employed and safe and make a great product.
And in that way 2020 has been pretty inspiring. So let's take a look back at the top construction equipment stories for 2020 and look forward to seeing these machines hard at work in 2021.
To read more, click here.
---
The Top 10 Construction Equipment Videos of 2020
With 2020 drawing to a close, it's time to take a look back at all the construction and heavy equipment videos we've produced in the last year that resonated most with our readers and YouTube subscribers. This ranking reflects the videos and equipment you guys thought was most interesting during 2020 and it was reached through a combination of traffic to the videos through our website and the total view count they received on YouTube.
To see the top videos, click here.
---
Compact Equipment Boomed in 2020. These Are the Top New Machines of the Year
Compact equipment boomed in 2020, as evidenced by their dominance in sales figures, but also in reader interest and OEM products and initiatives. These are the top compact equipment products that generated the most interest from Equipment World readers in 2020:
To read more, click here.
---
The 2020 Year in Dozers: Cat Dominates With Lineup Revamp, Case Makes Waves With DL550B Dozer Loader
Caterpillar dominated the headlines in 2020 for dozer news.
The company launched six new machines – seven if you count one that simply got a name change. Along with that, it continued its new model naming system with fewer letters, for a more streamlined nomenclature the company hopes will be easier for customers to follow. Other major manufacturers unveiled new machines with advanced technology, as well as one from Case that transforms the compact track loader into a dozer while maintaining the benefits of a CTL. John Deere and Komatsu also rolled out new offerings.
Here's a rundown of the dozer stories most viewed by equipmentworld.com readers in 2020:
To read more, click here.