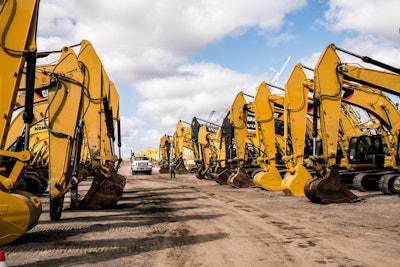 Pricing for used excavators in 2020 has "held fairly steady," says Ritchie Bros. Auctioneers. During the first three quarters of 2020, Ritchie sold more than 3,300 excavators in the U.S., up 4% year-over-year, with median prices ranging from $50,000 in Q1 to $47,000 in Q3.
"In a year of volatility, excavator pricing has remained relatively stable," says Doug Olive, senior vice president, pricing, in Ritchie's December Used Equipment Market Trends report. "Its cross-industry applications help mitigate massive price fluctuations. We also believe that the uptick in housing starts throughout the United States has had a positive impact on excavator pricing in 2020."
During this year, Ritchie says the top selling models by volume were Caterpillar, Komatsu and John Deere; top models were the Cat 336E L, 320E L and the 320C L.
Looking specifically at the Cat 336E L, Ritchie says the sharpest price decline was seen in 4-to-6-year-old/3,000-4,000-hour models. The median price for this machine in the past three years is $95,000.
The Q1 and Q2 median pricing for compact, or mini, excavators was $17,500, which Ritchie was was the highest since Q2 2017, when the median price was also $17,500. While Q3 2020 compact excavator median pricing declined by 3% to $17,000, Ritchie notes it was the highest Q3 median pricing since 2016, when it reached $18,000.
Ritchie says more than 420 compact excavators were sold in Q3, slightly above last year, when more than 400 units sold. In addition, more than 500 of these machines were sold in Q1, a company record. Top selling compact excavator brands by volume were Bobcat, Deere and Caterpillar; top models were John Deere 27D, John Deere 35D and Kubota K008-3.
Midi excavators, which Ritchie classifies as 5 to 9.9-ton units, had a Q2 median price of $40,500, the highest since Q1 2017. Pricing declined by 14% to $35,00 in the third quarter, but matched Q3 2019. Top models by volume were Cat 308E-2 CR, Volvo ECR88 and Deere 85D.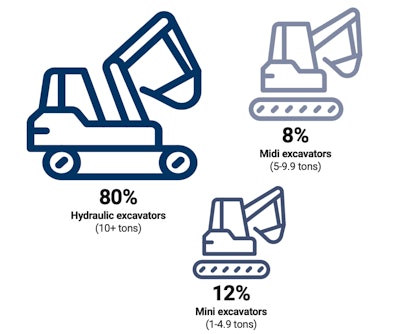 In the past three years, Ritchie Bros. says it has sold more than 15,00o excavators in the U.S. for more than $850 million.
On average, approximately 27% of all 10-ton-plus excavators sold in the United States during this time frame were sold to in-state buyers, while 57% went to out-of-state U.S. buyers and international buyers purchased 16%.