The ramp up of warehousing and shipping by online retailers is reflected in record numbers of forklifts and transport trucks selling through its auctions, says Ritchie Bros. Ritchie says it has sold $99 million forklifts in the U. S. in the past three years, with $10 million of that—or 1,500 forklifts—sold in Q3 2020.
"We're at an interesting intersection with the used forklift market in the U.S.," says Doug Olive, Ritchie senior vice president, pricing and appraisals. "When you look at rental companies, some of them ramped up their fleets—including forklifts—to keep up with growing demand in 2012, after the global recession. Now at seven to eight years old, those machines need to be replaced."
Covid-19, however, has slowed new forklift production and several OEMs have seen supply chain disruptions, says Olive. "The increase in online shopping has also directly impacted the demand for forklifts," he continues. "This juncture of supply and demand has contributed to recent stronger results in the used forklift market."
Olive made these comments as Ritchie released its November Used Equipment Market Trends Summary. Looking at segment markets in the U.S. during Q3, used heavy equipment was down 1%, truck tractors were down 4%, vocational trucks went down 2% and lifting/material handling, down 3%.
Year over year prices present a more optimistic view. Ritchie says used heavy equipment and lifting/material handling equipment prices are steady—plus or minus 1.5 percentu—year over year. Segments seeing price increases year over year include truck tractors (3% increase) and vocational trucks (2% increase).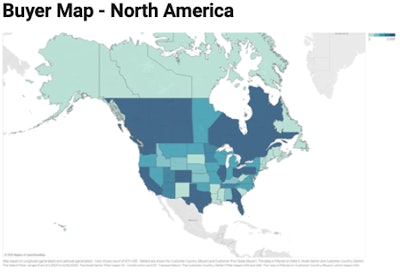 Texas, California and Pennsylvania were top regions for both buyers and sellers. Other top buyer states were Florida and Illinois. Top seller regions also included the Canadian provinces of Alberta and Ontario.
Outside of the U.S. and Canada, the top buyer countries were Mexico, Guatemala, Korea, United Arab Emirates and the Dominican Republic.