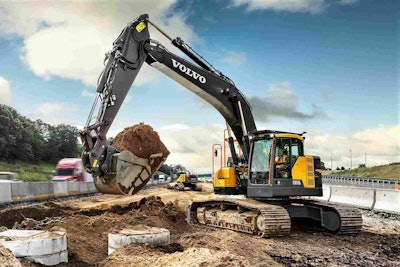 Alta Equipment Group reported an increase in net revenues of 41 percent year-over-year in Q2, rising from $136 million in 2019 to $191 million this year. In addition, the company's industrial and construction revenues were $95 million and $97 million, respectively, during the quarter.
Alta became public in mid-February, and carries the Volvo Construction Equipment, Hyster-Yale and JCB lines, among others. It finalized the purchase of Florida Volvo dealer Flagler in February.

In its release, Alta highlighted three additional acquisitions: PeakLogix, HILO Equipment & Services and Martin Implement Sales (details later on).
More mergers & acquisitions (M&A) activity is likely, indicates Ryan Greenawalt, CEO, speaking during an analysts call. In fact, the pandemic may have accelerated some sellers' interest. "The pipeline remains robust," he says. "We continue to explore both regional expansion with our major OEM partners and in-fill opportunities and we expect there will be further M&A before the end of the year."
Alta reports that despite coronavirus challenges, the company saw signs of stability and higher demand for both its material handling and construction equipment lines and services as the quarter progressed. "We entered the second half of the year at close to full capacity and are operating at pre-COVID-19 levels," Greenawalt says.
Tony Colucci, Alta CFO, stated during an analysts call that Alta's labor hours have returned to "95 to 100 percent of pre-COVID levels," a move that bodes well for the company's most profitable segments and "allows us to reunite with our furloughed skilled labor force."
Colucci says the company's "rent to sell" strategy — investing in rental machines and then selling them at the two- and three-year mark — will drive field population, which in turn will drive parts and service revenue over the long term. A particular rent-to-sell focus is in Florida, what Colucci called "an exciting growth market for the company."
"We hit the ground running in our Florida market," adds Greenawalt, "and added about 20 percent to our headcount of technicians there."
Alta highlighted three recent acquisitions in its release:
PeakLogix, a national material handling systems firm that specializes in warehouse automation and storage systems.
HILO Equipment & Services, a material handling equipment distributor with three branches in the New York City area. HILO carries Hyster-Yale, Kelley and JLG.
Martin Implement Sales, a New Holland, Kubota, Hyundai and Toro construction and agricultural equipment dealer with three branches in the Chicago area.
Alta now has 48 locations in Michigan Illinois, Indiana, New England, New York, Florida and Virginia.