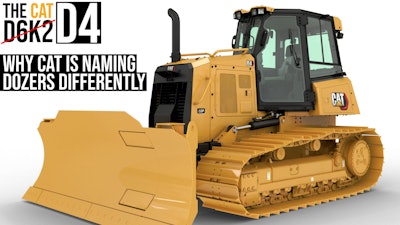 Paladin FD60 mulcher for skid steers fells trees up to 14" (VIDEO)
Paladin's new FD60 High-Flow Forestry Disk Mulcher is designed to reduce jamming while cutting through brush and trees, mulching and grinding stumps.
The mulcher for compact track loaders and skid steers features a wind-angle intake and a drive system that quickly recovers speed during cutting, the company says. A MulchPower Gauge shows when max rotational speed has been restored.
To read more, click here.
---
Volvo gives new P5110B, P5170B pavers fuel-efficient engines
Volvo Construction Equipment designed its new P5110B tracked and P5170B wheeled pavers for heavy commercial and light highway work.
The 20-ton pavers are powered by Volvo's D6 173-horsepower Tier 4 Final engine, which is also used in the manufacturer's L60H to L90H wheel loaders. Volvo says it designed the engine for fuel efficiency, with the tracked model able to achieve an average of 3.7 gallons per hour and the wheeled paver getting 3.3 gallons per hour. The engine is also designed to reduce vibrations and produce a low noise level of 79 decibels.
To read more, click here.
---
Mauldin launches new 760 paver with electrically heated screed
Mauldin based the platform of its new 760 gravity-fed paver on its 690 model but with some differences.
For one, the Freedom Screed that comes with the paver is electrically heated. A 12-kilowatt mounted generator delivers heat through six heating elements.
To read more, click here.
---
Skyjack launches its tallest rough-terrain scissor lift, the SJ9263 RT
Skyjack has unveiled its tallest scissor lift, the rough-terrain SJ9263 RT, which has a platform height of 63 feet.
Barry Greenaway, senior product manager at Skyjack, says the company's goal in developing the new SJ9263 was to make it cost-effective for rental customers to move up from a 50-foot scissor, which often involves switching to a boom.
To read more, click here.
---
Cat Renamed the D6K2 Dozer to the D4. Here's Why They Did It (Video)
The D4 is a new addition to the Caterpillar medium size dozer lineup. But it's not a new machine. It's the new name of the former D6K2. In the video below, we break down the reason behind the name change as well has how Cat's new approach to naming dozers is part of a restructuring of the whole dozer lineup.
To read more, click here.
---