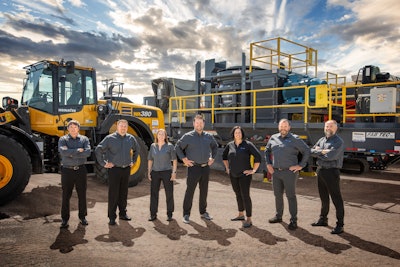 Do the right thing. Have passion. Be innovative. Work hard.
It could be easy to think of these as just words on a wall. But walk the hallways and shop areas of General Equipment & Supplies and you begin to get a sense these core values are lived.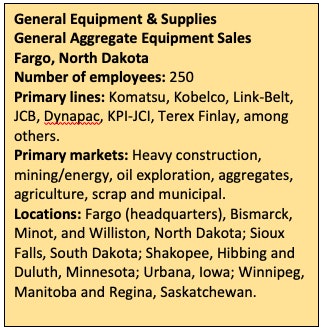 "We want them to be talked about all the time, and be a true belief," says Jon Shilling, president of Fargo, North Dakota-based General Equipment.
It's an approach that resonates with customers such as Mark, Scott and Joel Sellin with second-generation Sellin Brothers out of Hawley, Minnesota. Started in 1947 by twin brothers Harold and Roy Sellin, the company specializes in sewer and water, highway and municipal work.
Mark, Scott and Joel now run the firm with a production-focused fleet that includes excavators, dozers and wheel loaders.
"There's always been consistency with the way they've treated us over the years," Mark Sellin says. "We've been around a long time; it's been a good marriage to work with General and Komatsu. It's kept us where we wanted to be. Plus, we're a family and they're a family and that resonates."
It's also an approach that gained the notice of Equipment World editors in naming General Equipment one of its finalists for its 2019 Big Iron Dealer of the Year award.
Deep roots
Started in 1984 by four former employees of General Diesel and Equipment, General Equipment became a Komatsu dealer in 1986. From one location and 22 employees, the company has grown to 250-plus employees in four states and two Canadian provinces.
Company leadership has transitioned from two of its co-founders – Don Shilling and Jerry Kern – to a team led by Don's son Jon Shilling. "Jon was just the natural leader," says Sara Frith, vice president of customer relations and Jerry Kern's daughter. She adds with a laugh: "He's also the best golfer."
Shilling and Frith are joined on the leadership team by Don and Matt Kern, Jerry Kern's sons, who serve as vice presidents of aggregate sales and rolling stock sales, respectively. Additional leadership includes Steve Berdan, vice president of parts; Steve Stafki, vice president of service; and Tanya Groft, vice president of finance.
Frith emphasizes that the term "family business" is not exclusive to the children of the founders. "To us, every single person that works here is family," she says. While there were ventures outside of General Equipment, the second generation all spent high-school hours in a variety of jobs. The workings of the firm were part of their lives from an early age.
"I always compared everywhere else I worked with how Don and Jerry treated their employees," Shilling says, one of the factors that drew him back to the company after exploring commercial aviation and sales.
"I don't think we're the typical dealer," Shilling continues. "We're here specifically to provide solutions for our customers and create relationships. We believe if we take care of our people that they will take care of our customers and the rest will fall into place."
"It's all about empowering your people to take care of your customers," Don Kern agrees. This includes the freedom to not get things right the first time. "When they make a mistake, we pick them up and keep things going forward," he says. "It's a way to challenge them to figure things out rather than just hand them an answer."
Smart construction
"With Komatsu being on the cutting edge, we've seen technology become the main market change in the past five years," Shilling says.
General Equipment has emphasized the benefits of Komatsu intelligent excavators and dozers to clients, employing a smart construction business manager, Mitch Strehlow, who's in charge of showcasing equipment demos, or as the company terms them "experiences."
"This gets us out of the price game and shows customers new ways of doing things, and other ways of saving money than just buying the cheapest equipment," says Micah Tysver, sales manager.
"The guys who are really looking to grow and build their business are the front runners in adopting technology," says Matt Kern. "It started with the dozers, because the dozers were the easiest product to see the benefit of the GPS. And the intelligent excavators are the next big phase. It's been a hard sale with utilities and underground contractors, but now people are starting to see the benefits."
One of those benefits may be the ability to do a majority of the work with one machine, Matt explains. An example is digging a pond, which would usually involve a support dozer.
"Now you can just bring the excavator in and do the whole thing," Kern says. Unfortunately, many just look at the $80,000-plus up-front cost of intelligent machines. "There's an unbelievable amount of excess dirt that gets moved," he argues. "If you've got a job where you usually move 200 yards of material, but instead you move 150 yards because you've eliminated over-excavating by using an intelligent machine, the math gets real easy real fast."
As customers become accustomed to the information that telematics and GPS systems give them, Kern sees a growing push to integrate this data into one dashboard. "The fuel consumption will be in same report as the GPS files, and it's going to be one consolidated place where you can really understand your equipment costs for bidding the next job," he says.
"We want to fly the project site with a drone, do cut and fill maps, be with the customers for pre-construction meetings and give everyone better visibility on what needs to be done," Kern says. "Eventually, you'll be able to walk around the jobsite with an iPad and see the finished project. In the coming years, we're going to see incredible advancements in technology."
As companies transition to incoming generations there is a desire to look at innovative solutions and technology, Tysver says. "You're starting to see a recognition that they won't be able to compete unless they start to adapt. They know that in order to move their business forward they are going to have to get into this, and the sooner, the better. That conversation has been a little bit easier every year, and it used to be a hard one to have."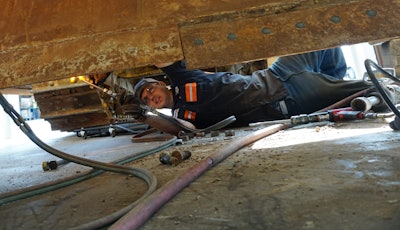 Evolving service
Technology is also front-center in managing and servicing equipment, says Steve Stafki, vice president of service. Customers are using telematics to manage idle time, determine how much fuel they are burning and find out if they are getting the full life out of an oil change, he says.
"If their machine idles for 50 percent of the time, it means they've burned up that many more hours of warranty and machine life without doing anything," he says.
"They're also expecting dealers to provide this data so that they can use it with their business system," Stafki says.
Customers are also more receptive to maintenance contracts, which Stafki says have "skyrocketed."
"We're able to take care of all their maintenance, and make sure we do it around their schedule," he says. That's a great benefit for around $4 per running hour.
"I don't care what brand it is, I want a maintenance contract on that machine because I want to show them how good General Equipment is," Stafki says.
One critical key to providing excellent service is the technician talent a dealer has recruited and retained, which is where Ann Pollert, director of workforce development, comes in. "We'll try anything," she says of their efforts to get techs in the door. "One thing I love about this company is we never say no to trying new things."
Started two years ago, General Equipment's apprenticeship is geared to those who have been out in the workforce for a few years. The company currently has approved apprenticeships for a diesel tech, an aggregate equipment technician and for a parts technician. "We've been doing this informally for 35 years, because that's how we've trained our employees, but this just formalizes it," Pollert says.
Service work has seasons, with spring's mad rush to get equipment running and out the door being exacerbated by March-to-May DOT load limits on roads. "By March 1st, you better have everything that's big gone or else it's going to be sitting here until May," Stafki says.
June tends to be another busy period as machines that have been sitting all winter start to have issues when they begin to work hard. "Our field work shoots through the roof," he says, "because everyone is go, go, go." Summer is also the time for rentals, which requires keeping fleet machines rental-ready.
Machines start to return in September and October, when customers turn machines in for winter work, Stafki says. Winter is also the time for rebuilds, and servicing customers who work in the winter.
"You might have every truck out on the road when it's 30 below," he says. "The guys are amazing. They'll work 5 minutes and then have to warm in the truck for 15 minutes and then repeat until the work is done."
This year's pandemic is also altering service work, with techs sanitizing any shared tools and equipment cabs both before and after any work. There's no more double-teaming on machine repairs, and techs stay inside their field trucks if not working on a machine.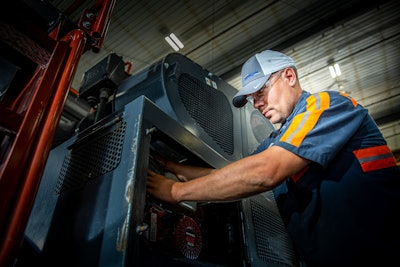 Aggregates heritage
General's heritage runs deep in the aggregates market. The company prides itself on its aggregate equipment inventory levels and can provide customers with an entire crushing spread. It also keeps close track of customer needs and stocks outside normal parameters for better coverage and customer uptime.
Many of the company's expansions have involved its aggregates lines. In 2007, it launched General Aggregate Equipment Sales in the Canadian provinces of Manitoba and Saskatchewan after it saw an influx of Canadian customers. And its added aggregate equipment locations in Iowa and Minnesota.
Every three years, the company hosts a two-day Aggregate Expo in March, showcasing its aggregates products and offering breakout training sessions. The two-day 2019 event brought around 450 attendees to Fargo to look at more than 40 pieces of equipment.
"We actually got into the aggregates business by accident," relates Don Kern, vice president of aggregate sales. His father, Jerry Kern, had a customer order a crusher, but when it arrived, the customer told him he had bought from another supplier. When Jerry was able to sell the crusher in a short time, he saw there was a need for aggregate equipment in the region.
"It grew from there," Kern says, and the company has since become known for its aggregates service capabilities and application knowledge. "When our aggregate customers need equipment, they need it now and they need to know that when they get it put in the field it's going to work right. There's a real sense of urgency there."
In addition, customers are looking for advice, Kern says. "When they come to us, they expect us to say, 'No, you don't need that; you need this.' They know we're going to ask way more questions and make darn sure that we understand what they are trying to do."
Rolling with the cycles
When you deal with the oil industry as part of your market area, there's a definite boom-and-bust cycle. That cycle went on steroids during the Bakken oil boom in North Dakota, an impact that General felt in earnest in 2012.
"It was a drastic increase in volume," Shilling says. "We ballooned from around $95 million in sales in 2011 to over $152 million in 2012. Before the end of it, we were up to more than 300 employees and doing just shy of $200 million in revenue."
And then the Bakken oil boom turned down as the price per barrel of oil dropped in 2015.
"We were ramped up inventory-wise for the previous sales volumes, so that was a lesson learned. We watch our inventory a lot closer and make sure we have the right equipment in stock," Shilling says.
Although not wanting to divulge an exact number, General does have ambitious growth plans.
"We recognize that we're not going to get back to our Bakken numbers by wishing for another oil boom," Shilling says. "We need to do it by specific planning throughout our regions and expanding the quality product lines we offer."
"Our goal is to grow," he adds. "The way dealerships work now is that you're either becoming a bigger dealer or you're getting swallowed up by another dealer that's doing it better. We'd rather be the one expanding."