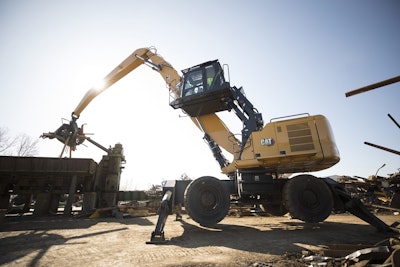 Video: Tesla Cybertruck sneak peak in Jay Leno's test drive with Elon Musk
Jay Leno recently got to take the upcoming and extremely hyped Tesla Cybertruck for a test drive. And who better to go for a drive in the Cybertruck than with Tesla founder and CEO Elon Musk?
Leno and Musk even drive into a test tunnel project being performed by one of Musk's other ventures, The Boring Company, in Hawthorne, Calif.
Check it out in the video below.
---
Dynapac's small CC1400 VI tandem vibratory roller can do driveways and follow paver
Dynapac considers its new CC1400 VI tandem vibratory roller an intermediate machine for such jobs as driveways, patchwork and parking lots.
Yet the compactor also comes with dual amplitude, usually found on larger rollers, says Fredrik Akesson, rollers product portfolio manager, during an interview at ConExpo 2020.
"This is still at a size where you can move without having the big trailers and the big trucks," Akesson says.
To read more, click here.
---
Yanmar intros SV40 compact excavator in new red paint job
Yanmar America's new SV40 excavator not only features what the company calls an "ultra-tight tail swing" but is the first of the company's compact equipment line to be offered in the company's new red color.
The 4-ton machine is powered by a 39-horsepower electronically controlled Yanmar diesel and has an 11-foot 3-inch dig depth and 4.7-inch tail swing. It comes standard with the company's hydraulic quick coupler, its Smartassist remote communication system and a 4-year / 4,000-hour warranty. Options for the SV40 include a second PTO function, 4- or 6-way blade and an additional counterweight. Customers can also choose between rubber or steel tracks.
To read more, click here.
---
New ANSI standards for aerial lifts begin; is the construction industry ready?
New standards governing aerial work platforms that have been years in the making and faced numerous delays went into effect June 1.
The A92 standards approved May 7 by the American National Standards Institute Board of Standards Review will change most aspects of how aerial lifts are made, used and maintained in the United States. The standards even give the lifts a new name: "mobile elevating work platforms." So be prepared to hear the word "mewps," the sounded-out MEWPs acronym.
To read more, click here.
---
Cat unveils MH3040 Material Handler: New 40-tonner is faster, boasts next-gen cab, new controls (VIDEO)
In 2015 Caterpillar discontinued its largest material handler, the M325D L MH. Since then customers have been asking Cat for a model to fill the gap left by that machine's removal from the lineup. That's where the brand new 40-metric-ton MH3040 comes in.
The MH3040 is a significant upgrade over its predecessor in more ways than one—a machine that has the potential to make you more money while costing you less to do it.
Our video on the MH3040 has all the details on this new machine. Or if you prefer text, read on at the link after the break.
To read more, click here.
---