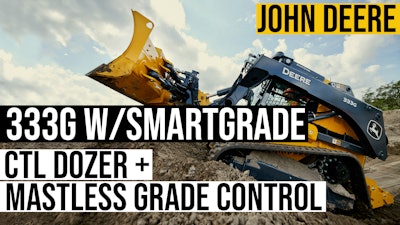 Hamm intros next-generation HP 180i pneumatic tire compactor
Hamm says it has tailored its new HP 180i pneumatic tire compactor specifically for the North American market.
The new roller, unveiled at ConExpo, is part of the next generation of compactors to replace the GRW Series, which has been the company's standard bearer for 50 years.
The GRW and HP series are similar in looks, but Hamm added features to boost the HP models' productivity, says Richard Evans, Hamm vice president of sales.
To read more, click here.
---
Snorkel's new 76-foot S9070RT-HC is the tallest rough-terrain scissor lift in North America
After unveiling the world's longest telescopic boom aerial work platform earlier this year, Snorkel has introduced the tallest scissor lift for the North American market.
Until the release of the new S9070RT-HC rough-terrain scissor, the tallest platform height on a scissor lift was 53 feet in the United States, according to Equipment World's Spec Guide.
The platform on Snorkel's new scissor extends to 70 feet and has a max working height of 76 feet.
To read more, click here.
---
Bell's new TC7A, TC11A tracked carriers have 6-roller undercarriage for a smoother ride
Designed for short haul and pipe laying applications, Bell Equipment's 7-ton TC7A tracked carrier (also known as a crawler carrier in the U.S.) took center stage at the company's ConExpo exhibit in March.
The TC7A will be joined by Bell's 11-ton TC11A model, and both units are powered by a 6.7-liter Cummins engine, feature Rexroth hydraulics and can be configured with either a dump or flatbed body.
To read more, click here.
---
Video: Deere's New 333G CTL With SmartGrade Has Dozer Mode and Integrated Grade Control
John Deere's latest dozer isn't technically a dozer at all—it's the 333G compact track loader. Nonetheless, this new 333G configuration features a six-way blade designed by Deere's crawler team, a Dozer Mode control scheme and integrated SmartGrade 3D grade control from the factory. Check out all the details in the video below.
---