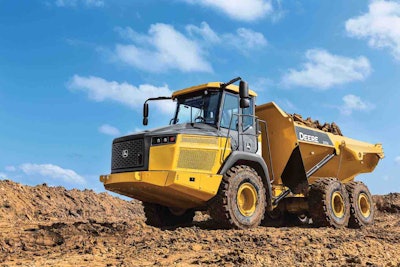 Because its second quarter ended on May 3rd, Deere & Company is one of the first equipment companies to report on a quarter where coronavirus impacts were felt during most of the reporting period.
Deere's worldwide net sales and revenues decreased 18 percent, to $9.253 billion, for the second quarter and decreased 13 percent, to $16.884 billion, for the first six months of its fiscal year, which began Nov. 1. Net sales from equipment operations fell 20 percent to $8.224 billion for the quarter and fell 14 percent to $14.754 billion for six months, compared with $10.273 billion and $17.214 billion last year.
Deere's construction and forestry division's net sales decreased by 25 percent, going from $2.9 billion in 2Q 2019 to $2.2 billion for the same time period this year. The division's operating profit for the quarter dove 72 percent year over year to $96 million.
The company's financial services division's net income decreased by 50 percent, going for $121 million in 2019 to $60 million in 2020.
Deere now projects global net sales in its construction and forestry division to be down 30 to 40 percent in 2020; agricultural sales are forecasted to be down 10 to 15 percent. "The outlook reflects market uncertainty as a result of COVID-19 as well as efforts to bring down field inventory levels," Deere says. "Industry construction equipment sales in North America are expected to decline by 20 to 30 percent for the year."
Commenting on the 2Q performance of its construction and forestry division, Deere says sales declined "mainly due to lower shipment volumes and the unfavorable effects of currency translation, partially offset by price realization. Second quarter operating profit deteriorated largely due to lower shipment volumes/sales mix, impairments in certain fixed assets and an unconsolidated equipment company headquartered in South Africa, and the unfavorable effects of foreign-currency exchange, partially offset by lower production costs and price realization."
Measures taken in response to the pandemic include continuing to produce and ship machinery and repair parts to customers, says the company. "Leveraging digital tools and connected-support abilities has allowed our dealers to remotely service customer machines and maintain appropriate social distancing protocols," Deere says.