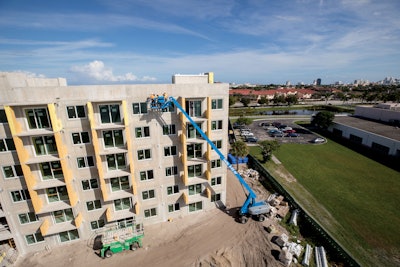 Net first quarter sales at Terex Corporation were $833.6 million, compared with $1.1 billion during the same period last year, a decrease of 24 percent. The company had a $24.7 million loss from continuing operations for the quarter.
In addition, Terex's Aerial Work Platform segment reported $511.7 in net sales for the quarter, down 29.7 percent versus 1Q 2019 results.
"While the first two months of the year met our expectations, during March, global economic activity, including customer capital equipment purchases, sharply contracted," says John L. Garrison, Terex chairman and CEO. "In response to this unprecedented situation, we swiftly implemented safety, financial, and production actions."
Terex says production was quickly reduced in its global facilities, responding to both decreases in customer demand and government mandates. As of April 28th, all of the company's U.S. plants were open (some with partial staffing), with the exception of its Moses Lake, Washington, aerial work platform plant and its Fort Wayne, Indiana, materials processing division plant, both of which are due to open May 4.
Cost reduction actions included suspending dividend and share repurchases, reducing team member compensation, temporary furloughs and permanent layoffs of team members.
Garrison says, "I am proud of the determination and dedication of our Terex team members, who continue to follow our Zero Harm Safety Program and safely serve our customers despite difficult market conditions. Terex will emerge well-positioned to continue to serve our customers and participate in the future economic recovery."