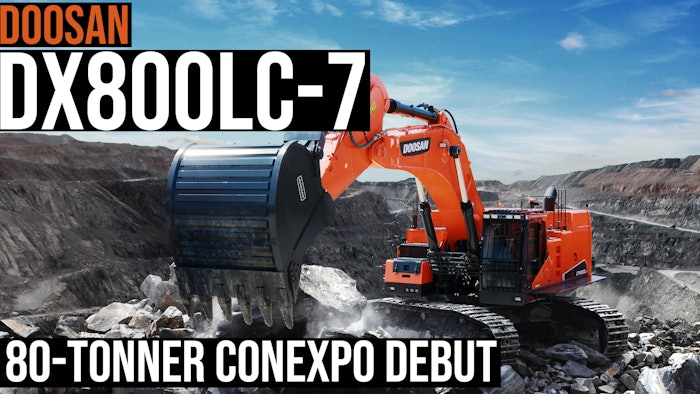 American Eagle Hybrid Power Source gives service trucks a rechargeable battery pack to run crane and air compressor
At the Work Truck Show and ConExpo, American Eagle showcased its new 48-volt Hybrid Power Source in a Stellar TMAX 1-11 mechanics truck package.
As a self-contained power source that gets its energy from a Volta lithium-ion battery pack, the HPS can run the truck's crane and the company's new 30-P electrically driven air compressor without the need for the truck's engine to be on and the PTO running.
To read more, click here.
---
Sany debuts SY155U, SY225C excavators at ConExpo 2020
On the excavator front at ConExpo 2020, Sany launched two new machines.
First up is the new Sany SY155U short radius excavator. Powered by a 105- horsepower engine, the machine weighs in at 35,174 pounds. It digs to 18 feet and offers a maximum reach of 27 feet, 4 inches on top of a minimal tail swing.
To read more, click here.
---
Mecalac MCR skid-excavators combine compact excavator design with CTL speed, attachments
Mecalac's introduction to the North American market came at ConExpo 2017, when it debuted a concept version of what would become the MCR Series crawler skid-excavator, a unique machine that combines a compact excavator with a compact track loader.
At ConExpo 2020, the French company unveiled the next generation of the MCR Series, with a new design, cab and user face. The MCR Series includes the 6MCR, 8MCR and 10MCR. The model number represents the operating weight in metric tons. All three models run on 74.3-horsepower Deutz engines.
To read more, click here.
---
Kenworth intros T880 Twin Steer vocational truck
Kenworth introduced a new, factory-installed twin steer configuration for its Kenworth T880 at ConExpo-Con/Agg 2020 in Las Vegas.
Available as a day cab, the new Kenworth T880 Twin Steer with set-back front axles is ideal for crane, mixer and other vocational applications that require 86-inch axle spacing to meet local bridge laws and enhance overall load carrying capacity.
To read more, click here.
---
Doosan unveils DX800LC-7, its largest excavator yet, to North America (VIDEO)
At ConExpo 2020 Doosan unveiled its largest excavator yet for the North American market, an 80-metric-ton machine slated for release at some point late in 2020.
Doosan says the machine is intended for mining applications like removing overburden and loading large amounts of material into articulated dump trucks or rigid frame trucks.
You can watch a video for all the details on the new DX800LC-7 below. Or if you prefer text, read on after the break.
To read more, click here.
---