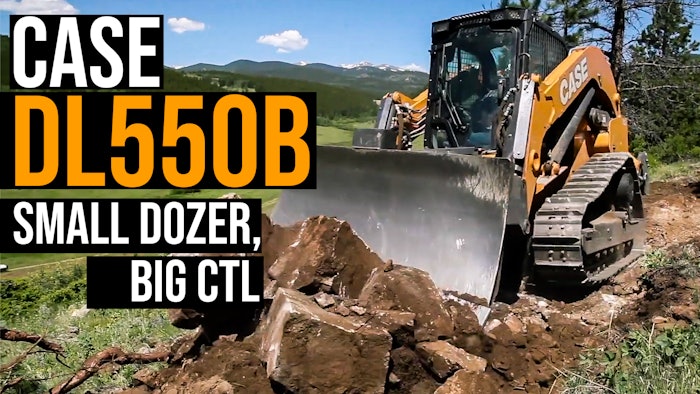 New Mecalac MWR Series combines higher wheeled excavator stability with side-boom mobility
At ConExpo 2020, Mecalac introduced its new MWR Series wheeled excavators to the U.S. market, touting the new machines as having "the stability of a crawler excavator and the mobility of a backhoe loader."
To increase stability over conventional wheeled excavators, the company lowered the turret's center of gravity as much as possible while leaving enough ground clearance to protect the undercarriage, says Patrick Brehmer, Mecalac head of design and product management. That also made the machine easier to access for the operator due to a lower cabin and for maintenance with ground-level service points.
To read more, click here.
---
Gehl shows 165E electric skid steer concept at ConExpo
Gehl joined a host of other manufacturers that chose to bring out their latest concept electric machines to ConExpo 2020.
The Manitou subsidiary demonstrated its 165E electric skid steer, based on the company's mid-frame 69-horsepower R 165 skid loader. The loader runs on a 48-volt lithium-ion battery system and has a charge life of 8 hours, company officials said.
To read more, click here.
---
How to super-clean and disinfect construction equipment cabs against coronavirus
While the cab of your truck or a piece of equipment might seem to be the perfect environment for social distancing, the fact is any of these enclosed spaces can harbor the coronavirus.
If somebody else jumps in your truck or excavator, even for just a minute, a second shift operator, a mechanic, fuel distributor, supervisor, or truck/delivery driver, that person could be carrying coronavirus and leave traces of it in the cab, on the door handle, grab bars, joysticks, arm rests, upholstery or monitor.
We asked Darren Priest, the country's foremost expert on automotive detailing, what he would do to get the interiors of trucks and equipment as clean as possible and he's got tons of good advice.
To read more, click here.
---
Volvo unveils new VHD vocational trucks with new look, driver assist features for more comfort
Volvo is calling its new VHD Vocational Series trucks its most significant vocational offering in decades.
With modern aesthetics, improved capability and the latest in safety and uptime solutions, Volvo says the new VHD is "tougher made smarter."
For starters, the new trucks feature and updated exterior designed to reflect the look of other Volvo Trucks models. The trucks feature a new grille design and new LED headlights with a fully-sealed headlamp for a brighter, more focused beam of light for better visibility. A de-icing option is available for melting ice and snow that accumulates on headlamps in cold weather.
To read more, click here.
---
Case Unveils DL550B: Unique 2-in-1 machine is both small dozer and large CTL
At ConExpo 2020 Case followed its unveiling of a fully-electric backhoe with the introduction of the DL550B, a machine that represents an entirely new machine category—the compact dozer loader—and one that has been several years in the making under the code name Project Minotaur.
The DL550B isn't just a compact track loader equipped with a dozer blade. From the undercarriage to a chassis-integrated C-frame, to full machine control support, it was designed to be a true two-in-one machine, capable of both heavy dozing and loading tasks.
Check out our full coverage in the video below along with footage of the DL550B in action. Or if you prefer text, click the link below to read the full article.
To read more, click here.
---