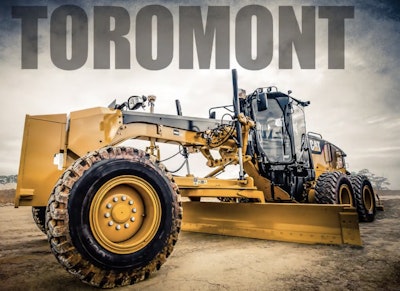 Canada's Toromont Industries saw a 5 percent increase in 2019 over 2018 revenues and a 6 percent revenue increase in 4Q 2019.
"Toromont delivered solid results in the fourth quarter and full year of 2019," says Scott J. Medhurst, president and CEO. "The Equipment Group recorded growth across its expanded territory. Reflecting on the substantial acquisition completed in late 2017, we are pleased with our progress to date in integration of operations and the benefits achieved, as we leverage best practices and operational efficiencies. The process is ongoing."
Toromont bought Hewitt Equipment in 2017, creating one of the larger dealerships in the Cat network.
The company's Equipment Group saw revenues up $182.9 million to $3.3 billion for the year on growth in product support, rentals and used equipment sales. New equipment sales were unchanged from 2018, including large mining deliveries. During 4Q, revenues were up $59.3 million to $933.1 million, with increases across all revenue streams except used equipment sales, which were relatively unchanged, says the company.
Increases in construction orders offset order declines in the mining and power sector, according to the company.
"Infrastructure projects and broader construction activity offer growth in equipment sales, product support and rentals for our Equipment Group," Medhurst says. "Opportunities exist for equipment supply into the mining sector, especially in support of the replacement and expansion requirements at existing mine sites. Overall, we are very pleased with the progress achieved so far on the transition and integration fronts and remain cautiously optimistic about the significant potential which lies ahead."
Toromont Industries's Equipment Group includes Caterpillar dealer locations for the Canadian provinces of Newfoundland & Labrador, Nova Scotia, New Brunswick, Prince Edward Island, Québec, Ontario and Manitoba, in addition to most of the territory of Nunavut. The group also includes rental operations, an agricultural equipment operation and a material handling business. In addition to its Equipment Group, the company also designs and installs industrial and refrigeration systems through its CIMCO division.