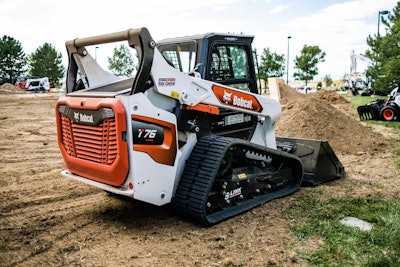 Atlas Copco's new XAS 950 air compressor logs 15% fuel savings
The XAS 950 portable air compressor from Atlas Copco features new technology that matches the compressor's engine speed, power and torque with air demand.
Called pressure adjusted through cognitive electronics, or PACE, the technology leads to a 15 to 20 percent increase in fuel savings, the company says.
To read more, click here.
---
Eterra Vortex Stump Grinder designed to take out toughest stumps (VIDEO)
Eterra Attachments says its new Vortex Stump Grinder for skid steers and compact track loaders was made for using "brute force" on stubborn tree stumps.
To read more and see a video of the grinder in action, click here.
---
Sneak peek at Kioti's new 2020 subcompact, compact utility tractors
In a preview prior to a more formal introduction of these new machines, Kioti says its latest subcompact and compact utility tractors are designed for operator comfort and ease of use and maintenance.
The company rolled out these 2020 model year tractors recently for a sneak peek at its annual North American dealer meeting.
To read more, click here.
---
VIDEO: Komatsu says Proactive Dozing Control "Closes the Skill Gap". But what is it?
Komatsu has introduced a new grade control technology for dozers that it says can be used 100 percent of the time, unlike other grade control systems which are typically only used for finish grading. In this video we break down how the system works and why Komatsu says it "closes the skill gap" between experienced and inexperienced operators.
---
The Top Construction Equipment Stories of 2019
We rounded up the top 15 construction equipment releases and stories of the year based on traffic to those stories.
To see the full list and read more, click here.
---