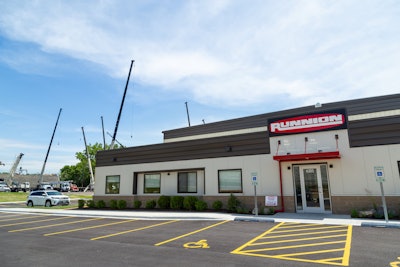 Boom truck dealer Runnion Equipment has opened up a new facility in Hodgkins, Illinois, that will accommodate all of the company's crane services.
The company held a grand opening ceremony on June 26 at the new facility. The 37,400 square-foot building houses 17 service bays, a training center for technicians and operators, and an expanded parts storage and customer service area.
The new location also has an outdoor demonstration space where customers can try out a new crane before purchasing it.
"This facility has been in planning and progress for several years, so we are very excited to have moved in and begun operations here to be able to better serve our customers, says Runnion president Mike Prochot.
"We will be able to provide faster turnaround times for all services to our customers," added CEO Pat Runnion.
Runnion sells Manitowoc's National Crane line, Palfinger knuckle boom loading cranes and Palfinger's Epsilon line. The company also carries Elliott HiReach telescoping aerial work platforms, and Dur-A-Lift telescoping and articulating aerial personnel and material handling lifts.