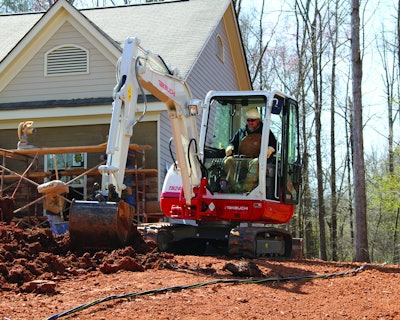 Takeuchi-US has named Nashville-based Parman Tractor & Equipment as its dealer for the state of Tennessee.
The move is the latest in a series of actions that is positioning petroleum products distribution company Parman Holdings in establishing a construction equipment dealership in the area. Parman Holdings bought Cumberland Tractor & Equipment in April, retaining the entire sales, service and parts department. The company is also building a new 20,000-square-foot facility with 14 bays, with completion scheduled for later this year.
"We pride ourselves on our Totally Outrageous Customer Service," said Colin Hockenberger, general manager, Parman Tractor & Equipment. "Takeuchi is well-known for their strong product offering and customer service as well. We look forward to a great partnership."
The new dealer will carry Takeuchi's full line, including excavators, skid steers, compact track loaders and wheel loaders, in addition to stocking parts and repairing equipment.
"Parman has a great track record for growth throughout their company history and put a lot of value on service, which is so important to Takeuchi," said Kim Robinson, director of dealer development at Takeuchi. "We are excited to see their new state-of-the-art facility when completed and know our machines will do well in their product offering."