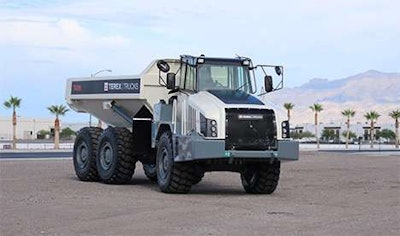 Scotland-based Terex Trucks says it plans to expand its presence in North America, where it sees significant growth opportunities in the construction industry.
The manufacturer of articulated dump trucks is represented by 35 dealerships in North America. And the company says it is eyeing expansions into Colorado, Alabama and Louisiana and into Ontario, Canada.
The company's most recent dealership agreement was with RDM Equipment Sales and Rentals in British Columbia.
In announcing its intentions to expand its North American presence, Terex cited a Dodge Data & Analytics report in October that 2019 will see $808 billion in construction project starts. That's on par with last year's $807 billion. Terex Trucks also pointed to renovation work of oil pipelines in and around British Columbia.
"Historically, North America has always been a strong market for us," says Robert Franklin, sales and marketing director, Americas. "A significant proportion of the machines we make at our Motherwell facility are distributed to customers across this region."
The company says its TA300 articulated dump truck has been popular in North America and sales have picked up due to large scale construction projects getting underway. The truck was upgraded in 2018 with a new EP320 transmission, a 5 percent improvement in fuel efficiency and a boost In speed.