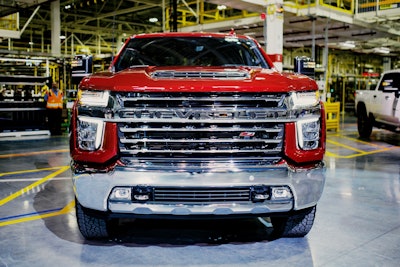 JCB, Takeuchi, Ditch Witch and Toro show off electric compact construction equipment at rental show
Attendees of the American Rental Association Show got a close up look at four all-electric machines coming from JCB, Takeuchi, Ditch Witch and Toro. While some are in concept stage, others are poised to enter the market this year.
These machines follow recent electric machine-related announcements by Volvo, Caterpillar and Cummins and Hyundai.
To read more, click here.
---
Ram reveals pricing for 2019 Heavy Duty lineup
Ram Truck announced the pricing for its entire lineup of 2019 Ram Heavy Duty pickup trucks with a starting MSRP of $33,395 plus $1,695 destination fee.
The new 2019 Ram Heavy Duty is available in a wide range of offerings, from the Ram 2500 Tradesman regular cab 4×2 which stickers at $33,395 to the tech-packed Ram 3500 Limited Mega Cab 4×4 with 12-inch Uconnect 4C touchscreen at $67,050 plus destination. (More trim levels and prices posted below.)
Pricing of all models reflects the standard 6.4-liter HEMI V8 engine with 8-speed automatic transmission. The optional 6.7-liter Cummins Turbo Diesel with 6-speed automatic transmission is $9,100, while the optional 1,000 lb.-ft. of torque Cummins High Output (3500 only), mated to the Aisin 6-speed transmission, is $11,795.
To read more, click here.
---
Trimble updates its AR hard hat with Microsoft HoloLens 2: Layer-able, hand-manipulated 3D hologram designs right before your eyes
Trimble has teamed up with Microsoft's HoloLens Customization Program to create a hard hat-compatible device that enables workers to see 3D holographic information on the jobsite.
The Trimble XR10 with HoloLens 2 allows workers to see an image of the building's design on its flip-up view screen or view different layers of the built structure that are hidden inside walls or behind drywall or other surface materials.
According to the company, the Trimble HoloLens 2 will have the same specs, performance and functionality of the earlier product but with improved sensors, and processors, a significantly larger field-of-view, 10-finger gestures, and eye-tracking.
To read more, click here.
---
Cat 990K Aggregate Handler hauls 25% more, saves lots of time
Caterpillar's new 990K Aggregate Handler is designed to handle greater payloads in aggregates yard applications.
Compared to the standard 990K, first introduced in 2014, the Aggregate Handler variant ups the payload by up to 25 percent, allowing customers to load trucks and railcars faster and to move more material in load-and-carry and stockpile management tasks.
Configured with a 17-cubic-yard general purpose bucket, the loader has a payload of 22 tons and a full turn static tipping load of 96,426 pounds. Additional counterweight maintains machine stability, and robust 990K structures ensure durability in the Aggregate Handler configuration. "Machine mass went up," notes Todd Tuntland, product application specialist, Caterpillar. "It's a direct reflection of the counterweight we've added for stability."
To read more, click here.
---
2020 Chevy Silverado HD designed to fit in with heavy equipment, make your jobs easier (VIDEO)
The main thing to know when it comes to the 2020 Silverado HD pickups is that Chevrolet is offering more truck than ever before.
With this new lineup, the truck maker has introduced its first 10-speed transmission, the highest maximum towing figure in the HD segment to date in 35,500 pounds, and the longest, widest and tallest Silverado HD body design yet with 3 inches of additional cabin space.
For all the details on the new exterior design of the trucks, we talked with Brian Izard, their lead designer.
To read more, click here.