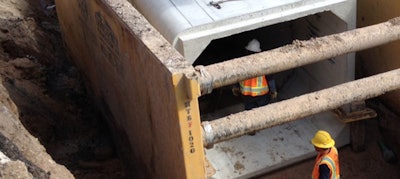 Sunbelt Rentals has bought Underground Safety Equipment, a rental company specializing in safety equipment used by contractors and municipalities to work safely in trenches.
From eight locations spanning from Arkansas to Utah, Underground Safety Equipment provides aluminum and steel trench shields, manhole shields, aluminum hydraulic trench shores, road crossing plates, pipe plugs, slide rail and build-a-box systems.
The acquisition is part of Sunbelt Rental's goal to expand its footprint by 50 percent in North America by 2021.
Sunbelt's new Shoring Solutions division offers excavation shoring, structural shoring and bridging systems, from trench boxes to fully engineered shoring systems and bridges. Sunbelt says its trained professionals are experienced in specialty applications and can assist contractors with site-specific engineered systems.
"Shoring Solutions is a specialty group that we started with the Mabey acquisition back in July," Morse says of Sunbelt's $90 million purchase of the share capital of Blagrave No. 2 Limited, the parent company of Mabey, a ground protection and ground works business.

Sunbelt has moved from having no shoring division to having 18 locations since July, beginning with the acquisition of Mabey, which is a U.K.-based company and now, Underground Safety Equipment a few weeks ago.
Ground protection is a business where Sunbelt has risen to become a market leader in the United Kingdom. Starting small, that presence has been growing in the United States, the company says.
The Mabey purchase brought Sunbelt "a bridgehead into two specialty markets that have significant growth potential ground protection and trench shoring," according to Geoffrey Drabble, CEO of Sunbelt's parent company, the Britain-based Ashstead Group, in an investor's call on September 11.
He noted that the growing market for these products has significant cross-selling potential in a billion-dollar-plus rental market, particularly in markets such as transmission, entertainment, and oil and gas.