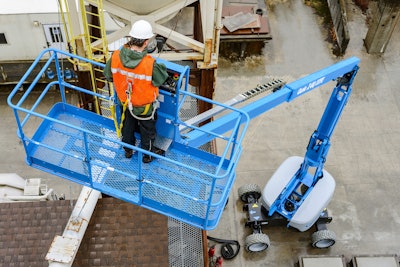 Increased sales by 19% to $1.4 billion
Hiked adjusted 0perating profit by $34 million, or 41% adjusted
Earnings per share 73 cents as reported, 98 cents adjusted
Increased backlog 31%
Updated full-year guidance from $2.70-$3 to $2.8-$3
Repurchased 2.9 million Terex shares for ~$116 million
With crane sales on the upswing and a new business strategy firmly in place, Terex is reporting a 19-percent sales increase to $1.4 billion for the second quarter of 2018.
Terex, makers of cranes and Genie brand aerial work platforms (AWP), continues to see the momentum it slowly amassed during 2017 carry over into the first half of 2018, and the company once again has raised its outlook for the year.
In the first quarter of 2018, announced last May, all three of the company's equipment units had posted sales increases, representing a near 360-degree turnaround from the same period in 2017. The first quarter of 2017 had seen nearly the same net sales figure at $1 billion, but Terex posted a loss of $60 million.
Now, second-quarter profits show the rise continues during the nation's buoyant construction activity, though Terex notes some challenges in getting materials for its crane segment. The Terex profit margin continues to climb.
"Terex significantly improved its second quarter, as adjusted, earnings per share compared to last year," says Terex CEO and President John L. Garrison. "These strong financial results reflect operational improvements, the considerable benefit of executing our disciplined capital allocation strategy and broad-based improvements in our global markets."
Terex serves a wide swath of industries, including construction, infrastructure, manufacturing, shipping, transportation, refining, energy, utilities, quarrying and mining. With Genie leading the uptick, the company's other major brands include Terex, Powerscreen and DeMag.
"Aerial Work Platforms (AWP) and Materials Processing (MP) continue to execute very well," Garrison notes. "Our cranes segment improved as expected compared to the first quarter but continued to be impacted by material shortages."
Income from continuing operations reached $55.9 million for the quarter, or 73 cents per share, on the net sales of $1.4 billion.
That compares to 2017 second-quarter figures of $94.4 million income from continuing operations, or 98 cents per share, on net sales of $1.2 billion.
Income from continuing operations, as adjusted, for the second quarter of 2018 was $74.9 million, or $0.98 per share. That's compared to income from continuing operations as adjusted of $49.6 million, or 51 cents per share, in the second quarter of 2017.
Narrowed focus paying off
Terex has been focusing its portfolio on businesses that can out-earn their cost to capital throughout the cycle. Those market areas are aerial work platforms, cranes, and materials processing. After years of acquisitions and divestitures, last year Terex Corp. narrowed its focus to these three key markets and set the course for growth in the specific niches.
The growth became highly evident last year, when Terex Corporation reported that income from continuing operations soared 70 percent in the third quarter of 2017 to $56.6 million – up from $33.3 million for the same period a year ago.
The company has been concentrating on improving customer service. And the latest quarterly earnings report indicates that strategy also is paying off.
"We made progress implementing our Execute to Win business system across our three priority areas: Commercial Excellence; Lifecycle Solutions; and Strategic Sourcing" Garrison explains. Execute to win is an annual Terex-wide talent review process.
"The initial benefits of Commercial Excellence are positively impacting our current performance. We will start to see benefits from strategic sourcing in the second half of 2018."
He also notes that Terex remains committed to what it calls its Disciplined Capital Allocation Strategy.
"During the quarter, we repurchased 2.9 million shares for $116 million," Garrison explains. "Over the past 18 months, we repurchased approximately 34 million shares, or roughly one-third of our outstanding shares. In addition, we recently announced a new $300 million share repurchase authorization."
During the Terex investor presentation in December 2016, the company had committed to pursuing a disciplined capital allocation strategy that included the efficient returns of capital to shareholders through share repurchases of $1 billion to $1.5 billion through 2020.
To read more about the repurchase authorization, click here.
The estimates for future earnings are strong, so Terex has raised its 2018 full-year outlook once again, after also hiking it at the end of the first quarter.
"We are updating our full year 2018 adjusted EPS guidance range from $2.70 to $3.00 to $2.80 to $3.00," Garrison says. "This improvement reflects our first half operational results, capital market actions, and our expectations for the balance of 2018."