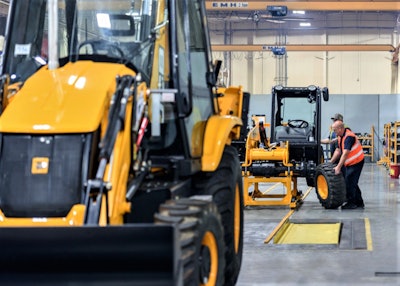 Wacker Neuson reports record 1Q revenues
Fueled in large part by robust U.S. sales in skid-steer loaders, the Wacker Neuson Group is reporting record high revenues for the first quarter of 2018 compared to a year ago, with an increase of more than 9 percent to $440.1 million.
That's up from $402.2 million in revenues reported in the first quarter of 2017.
All regions and business segments reported a rise in revenue, the company says in a press release from Munich.
"In the U.S., we benefited from a number of trends, including increased investments from rental chains stocking up on worksite technology such as generators and heaters," explains Martin Lehner, CEO of Wacker Neuson SE.
"Our performance was also bolstered by strong sales of our U.S.-produced skid steer loaders."
To read more, click here.
---
JCB ceases backhoe production at Ga. facility to make room for telehandlers; will build dedicated parts warehouse and distribution center in Miami
Less than four years after the first JCB 3CX backhoe rolled off the assembly line at the British equipment maker's Savannah, Georgia-based North American headquarters, the company has announced that it has ceased backhoe production at the plant in order to make room for production of the 505-20TC compact telehandler.
JCB says installation of the new telehandler production line has already begun at the plant, which employs 600 workers, and that it expects full-rate production to begin in Septmeber. Though it has manufactured the 3CX backhoe since November 2014, the Savannah plant's primary manufacturing responsibility is and will remain skid-steer and compact track loaders. Thus, the company expects no significant impact to its Savannah employment as a result of the change.
To read more, click here.
---
Three new hires tapped for key leadership roles at Manitou Group
Manitou Group is announcing three new members on its North American leadership team:
Don Vollmar is vice president of engineering.
Todd Miorin is senior director of program management.
Jeffrey Weido js senior director of product management and marketing.
To read more, click here.
---
Hyundai Construction Equipment taps Bello to head south central U.S. region sales
Hyundai has announced that Eli Bello will be the new District Manager for sales in its South Central U.S. region.
The company says Bello will be responsible for assisting dealers in that region of the country and will report to Tom Owen, Hyundai's vice president of U.S. equipment sales.
Bello has more than 17 years of experience in the equipment industry with 10 of those coming in sales, according to a company release. He hails from Austin, Texas, and holds a bachelor's degree in international business and finance from St. Mary's University.
To read more, click here.