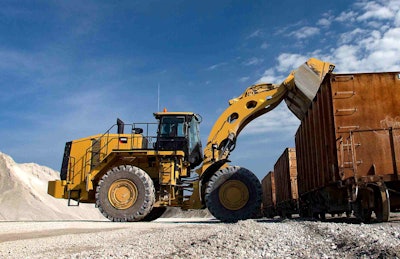 Mo.'s Luby Equipment Services now a certified Case Precision Construction Dealer
Luby Equipment Services, based in Fenton, Missouri, has earned Case's official designation as a certified expert dealer in machine control solutions.
The certification is overseen by Case and requires training on off-machine tools and all the way up to 3D and 3D systems. Case requires that its certified Precision dealers have a full-time machine control specialist on staff along with trained technicians and parts support.
To read more, click here.
---
H&E Equipment Services relocates Fort Collins, Colo., branch to expand service, repairs for customers in three states
H&E Equipment Services has relocated its branch serving the Fort Collins, Colorado, area to provide service and repairs to a larger volume of general industrial and construction equipment.
The new location, at 429 East Mulberry Street, Fort Collins, provides full-service coverage to customers in northern Colorado, southeastern Wyoming, and western Nebraska, the company says.
The 16,000-square-foot facility sits on four acres with a fully-fenced and paved yard area, offices, parts warehouse, and a repair shop with eight pull-through bays.
To read more, click here.
---
Yanmar announces new 4-year/4,000-hour factory warranty on compact excavators
Yanmar has increased its factory warranties for all compact excavators to four years or 4,000 hours, whichever comes first.
"The new four-year, 4,000-hour warranty is not extended 'coverage,' and will not be administered by a third party, as many other manufacturers offer," says Jeff Pate, National Sales Manager for Yanmar America's Construction Equipment Division. "This is a true factory 'bumper-to-bumper' warranty that Yanmar America offers and will cover everything our previous 3-year factory warranty covered."
As of April 1, this new warranty is covering all models ranging from the smallest, SV08; all 6 of the Zero Tail Swing excavators from the ViO25 to the ViO80; and the largest compact excavator, the SV100.
The company, calls the change "a bold statement of Yanmar quality" that should by considered by every end user intending to purchase a compact excavator.
To read more, click here.
---
Caterpillar president of customer, dealer support to retire
Caterpillar announced that Group President Rob Charter is retiring "following a distinguished career spanning nearly 30 years with the company."
Charter has been a group president of Customer & Dealer Support since 2015.
"During his three decades with Caterpillar, Rob has built a reputation for his focus and unwavering commitment to helping our customers succeed," says Caterpillar CEO Jim Umpleby.
"Rob's global perspective – he's held positions in Asia, Latin America, the United States and in his home country of Australia – is just one reason he's a valuable member of our executive leadership team. Rob is also known within the company for his passion for developing and mentoring Caterpillar employees around the globe. We wish him a long and happy retirement."
Charter's retirement takes effect June 1. The company expects to announce a replacement in the near future.
To read more, click here.