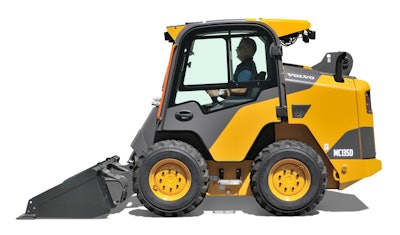 Case dozers get universal machine control compatibility as factory option
Case Construction Equipment will now install a universal machine control kit at the factory as an available option on its production class M-Series dozers.
The kit includes a harness for blade guidance systems, brackets and mounts, and universal jumpers. The kit works with systems from all major machine control suppliers including Topcon, Trimble and Leica Geosystems.
Beyond the convenience of receiving a machine control-ready dozer, Case notes that opting for the kit should improve the machine's resale value as well.
To read more, click here.
---
Landscaping Roundup: 15 attachments for grinding stumps, driving posts, clearing brush, more
A variety of landscaping attachments are designed to turn your skid steer, excavator and other equipment into lean, mean brush-clearing machines. They can also grind stumps, drive posts and perform other tasks.
To see the full collection of attachments, click here.
---
GMC's redesigned 2019 Sierra is bigger, lighter, has a carbon fiber bed and a 6-function tailgate
Three months after wowing everyone with a redesigned 2019 Silverado 1500, General Motors has taken the wraps off the next generation of the Sierra lineup. And though the 2019 Sierra and Sierra Denali half-ton pickups feature a new design, the exterior changes are a bit more conservative than what we saw from the next-generation Chevy truck.
Beyond the different look and luxury-leaning features you'd expect from GM's "professional grade" pickups, the new Sierra half-ton is differentiated from Chevy's offering by three key features: a carbon fiber bed, the new MultiPro tailgate and a "Head-Up Display" that projects vehicle data onto the windshield.
To read more, click here.
---
Komatsu intros PC390LCi-11 excavator with semi-auto control
Komatsu is bringing its intelligent Machine Control technology (iMC) to another excavator size class with the introduction of the PC390LCi-11.
It's the fourth iMC-equipped excavator in the Komatsu lineup but the company says it's the first 3D semi-automatic excavator that combines the "nimbleness and speed" of a 36-ton machine with the stability of a larger machine.
"Whether it's production excavating, utility trenching, site prep or any application where greater over-the-side lift capacity is required, this could be the machine operators fight over on the jobsite," says Renee Kafka, product specialist at Komatsu America.
To read more, click here.
---
Volvo revamps skid steer/CTL lineup: 6 new D-Series models are more powerful, have "largest cab on the market"
Volvo has introduced a major shakeup to its skid steer and compact track loader lineup with the unveiling of three redesigned models in each machine category.
The new machines include the MC110D, MC115D and MC135D skid-steer loaders, and the MCT110D, MCT125D and MCT135D CTLs. Volvo says these new D-Series machines boast more strength, greater capacities and improved operator comfort over their predecessors.
To read more, click here.