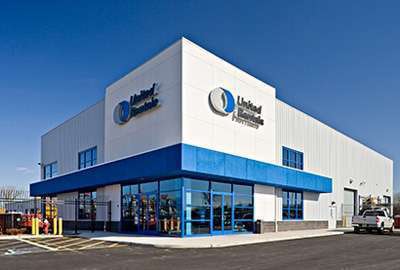 United Rentals is reporting a 16.8-percent surge in total revenue for the third quarter, climbing to $1.766 billion compared to $1.508 billion for the same period last year.
Within that, rental revenue is up by 16.2 percent to $1.536 billion. That's compared to $1.322 billion for 2016's third quarter.
The company also is seeing a leap in time utilization, which shot up 160 basis points year-over-year to 71.9 percent – a third quarter record. Each month in the quarter also hit a new monthly record.
CEO Michael Kneeland attributes the third-quarter revenue gains to "significantly higher volume and time utilization, margin growth and strong cash flow."
United Rentals is seeing positive rental rates both sequentially and year-over-year for every month in the quarter, he notes.
"Our U.S. end markets are driving robust demand for our fleet, and Canada is continuing to rebound," Kneeland says. "Given these positive dynamics – and the extended hurricane recoveries – we've raised our 2017 gross capex plan by up to $200 million to best serve the current and anticipated needs of our customers."
Rebuilding after the hurricanes is boosting rental revenues, equipment utilization and rental rates for the entire industry. United Rental's strong growth was also fueled by the purchase of Neff Corporation.
Earlier this month, United Rentals announced it completed the acquisition of Neff for about $1.3 billion.
That augments the company's earthmoving capabilities and efficiencies of scale in key market areas, including fast-growing southern geographies, according to United Rentals. The purchase brought $867 million worth of fleet, based on original equipment cost.
It includes 69 branch facilities serving end markets in the infrastructure, non-residential, energy, municipal and residential construction sectors, according to the company.
"The acquisition of Neff is well under way with all locations of our operating system," Kneeland says.
The company reports a third-quarter net income of $199 million, or $2.33 per diluted share (on a GAAP basis). That's compared to $187 million, or $2.16 per diluted share, for the same period last year.
Adjusted EPS for the quarter was $3.25 per diluted share, up from $2.58 in the third quarter of 2016.
Adjusted EBITA was $879 million with a 50-percent margin. That reflects increases of $132 million and 30 basis points over the same period a year ago.
The company also notes these highlights:
While rental revenue jumped 16.2 percent, within that, owned equipment rental rose 15.8 percent. That reflects hikes of 18.2 percent in the volume of equipment on rent and 0.1 percent in rental rates.
The company's trench, power and pump specialty segment's rental revenue grew by 32.9 percent, primarily on a same-store basis. The segment's rental gross margin improved by 280 basis points to 54.8 percent.
Reflecting sales of NES Rentals equipment, which the company bought this year, United Rentals generated $139 million in proceeds from used equipment sales, compared with $112 million for the same period a year ago.