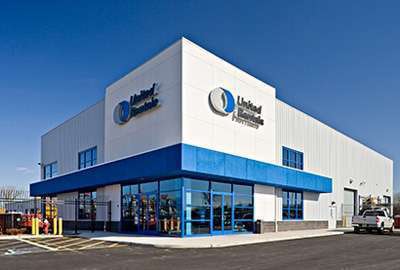 United Rentals plans to purchase NES Rentals Holdings II for roughly $965 million in cash, with an expected close of the deal in the second quarter this year, following regulatory clearance and conditions.
"The NES agreement satisfies the rigorous strategic, financial and cultural standards we set for acquisitions," says United Rentals President & CEO Michael Kneeland. "This exciting transaction will augment our revenue, earnings, EBITDA (earnings before interest, tax, depreciation and amortization), free cash flow and overall scale, and expand our base of local and strategic accounts at a key point in the demand cycle."
"In NES, we're acquiring a well-run operation that's primed to benefit from our technology, infrastructure and cross-selling capabilities. Most importantly, we're gaining a great team that shares our intense focus on safety and customer service. We'll be working side by side throughout the integration to capitalize on best-in-class expertise from both sides. We look forward to welcoming the NES team to United Rentals."
The company reports NES is considered one of the 10 largest general equipment rental companies in the U.S. Concentrated in the eastern half of the country, it specializes in aerial equipment and serves about 18,000 customers through 73 branches and roughly 1,100 employees. NES had an estimated $369 million in total revenue for 2016 with an EBITDA of $155 million, creating a 42.1 percent margin. At the end of 2016, it had roughly $900 million "of fleet at original equipment cost."
United Rentals listed the following value points as reasoning behind the purchase agreement:
The addition of NES's branch footprint will increase the company's density in strategically important markets, including the East Coast, Gulf States and the Midwest.
The combined operations are expected to strengthen the company's relationships with local and strategic accounts in the construction and industrial sectors. This will enhance cross-selling opportunities and drive revenue synergies.
The combined operations are also expected to create meaningful opportunities for cost synergies in areas such as corporate overhead, operational efficiencies and purchasing.
United Rentals and NES share many cultural attributes, including a strong focus on safety, a customer-first business philosophy, and best practices for talent development and retention.
NES employees will bring a wealth of experience to United Rentals, and will have greater opportunities for career development within the larger combined organization.
United Rentals will acquire NES for a purchase price of $965 million in cash. Net of synergies, this represents a multiple of 4.9 times EBITDA for the year ended December 31, 2016, and an adjusted purchase multiple of 4.3 times, including the value of acquired tax assets.
The acquisition is expected to be immediately accretive to United Rentals' adjusted earnings per share and free cash flow generation for the full year 2017, and United Rentals expects to maintain a leverage ratio of less than 3.0. Return on invested capital is expected to exceed the cost of capital within 18 months of closing.
The transaction is not conditioned on financing. United Rentals expects to use a combination of cash, existing capacity under its ABL facility, and newly issued term debt to fund the transaction and related expenses.
2016 financial results
United Rentals reports total revenue of $5.76 billion and rental revenue of $4.94 billion for the full year 2016, slightly lower than the $5.82 billion in total revenue and $4.95 billion in rental revenue for 2015.
For the fourth quarter the company has $1.52 billion in total revenue and $1.29 billion in rental revenue. Total revenue was the same as the corresponding quarter in 2015, but rental revenue was slightly higher ($1.27 billion in 2015).
Net income for 2016 was $566 million, compared to $585 million for 2015. The company generated $1.95 billion of net cash by operating activities and $1.18 billion of free cash flow, compared to $1.99 billion in net cash and $919 million of free cash flow in 2015.
On the rental revenue side, owned equipment rental revenue rose by 1.9 percent, with a 4.3 percent increase in equipment volume, but a 1.8 percent decrease in rental rates.
"We were very pleased with our fourth quarter results, which benefited from broad-based demand. While rental rates remained a year-on-year headwind, our sequential rate performance was somewhat better than expected, and OEC volumes were robust through the end of the quarter," Kneeland says. "These factors helped us exceed the upper-band of guidance on total revenue, adjusted EBITDA and free cash flow for the full year."
"2017 should be a year of notable growth for us on several fronts. We expect to close the NES acquisition early in the second quarter and immediately embark on our integration plan. The transaction should be accretive to earnings, revenue, EBITDA and free cash flow this year. Once the acquisition is complete, we will issue new 2017 guidance to reflect the combined operations. In addition to M&A investment, we expect our performance to be driven by broad- based market opportunities and growing demand. Our confidence in the cycle is supported by internal data, customer sentiment, and the strength of key leading indicators. Longer-term, we expect our 2017 strategic investments in increased capital spending, sales and marketing, digital and Project XL to extend our market position and enhance future profitability."
2017 forecast
For 2017, United Rentals expects total revenue to reach between $5.75 billion and $5.95 billion, with an adjusted EBITDA ranging from $2.7 billion to $2.85 billion. Net rental capital expenditures after gross purchases is forecast at $900 million to $1.05 billion, after grow purchase of $1.4 billion to $1.5 billion. Net cash from operating activities is expected to range from $1.67 billion to $1.87 billion, and free cash flow is forecast at $650 million to $750 million