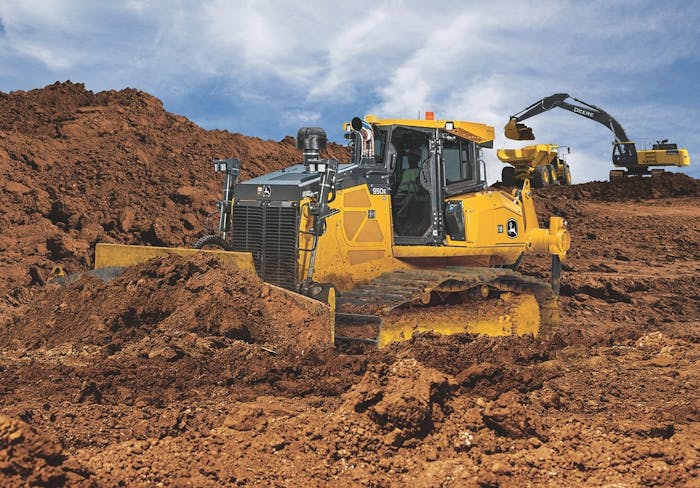 In what it calls an industry exclusive, John Deere has put a six-way Power Angle Tilt blade on its production class 950K dozer. ConExpo attendees got a preview of the 950K/PAT combo, which is expected to be available this fall.
"Our customers were asking for a machine that does both heavy excavating and fine grading work," says Nathan Hortsman, Deere's product marketing manager, crawler dozers. "With the addition of the PAT blade, along with the Deere SmartGrade 3D grade control system and a hydrostatic powertrain, we're able to do just that." Hortsman adds that while the SmartGrade system enhances the capabilities of the PAT blade, the blade can also be operated in manual mode.
Powered by a Tier 4 Final John Deere 9.0-liter 265-horsepower engine, the 950K uses a hydrostatic powertrain that Deere says will get approximately 15 percent more power to the ground versus a conventional torque-converter powertrain.
The AMC 4 and AMC 6 vacuum lift systems are designed to work in congested streets or other tight areas on compact to mid-sized excavators and truck-mounted articulating cranes without significantly reducing the host machine's lifting power.
To that end, Vacuworx has made its AMC Series Lifting Systems lighter and smaller and added attachment options. The AMC systems can load and unload materials, such as steel, poly or concrete pipe, trench plate and concrete slabs, with a small footprint. Hydraulically powered, the lifters eliminate fuel costs, emissions and noise, the company says.
The AMC 6 can lift 13,200 pounds and comes with a pin adaptor for mounting to an excavator. The AMC 4 has a lift capacity of 8,800 pounds, and its hydraulic quick change adaptor is made for truck crane applications.
If you like your skid steers in a shade other than yellow, and you want to own a piece of history, Case has a machine for you.
But you'll probably need to act fast.
In celebration of the heavy equipment manufacturer's 175th anniversary, Case has unveiled a limited edition lineup of skid steer and compact track loaders with a red paint scheme. While the company's Construction Equipment products typically come in an orange-gold hue, its agriculture machines have long sported a coat of red. The limited edition loaders are a tip of the hat to where Case got its start in 1842: manufacturing farm equipment.
A year after announcing plans to add an Extreme Duty (XD) off-road package to its lineup, Western Star has unveiled the second member of the XD family.
Initially offered on the company's flagship 6900 as the XD-40, during its its 50th anniversary celebration in Phoenix Western Star debuted the XD-25—a hulked up 4900 with 25 tons of capability. Western Star is targeting smaller, off-road construction, mining and quarry site hauling operations with the new configuration.
Western Star's XD off-road suspensions offer maximum ground clearance, the company says. Using a double-slippered spring suspension, springs are controlled with heavy-duty track rods that eliminate the need for spring pins. That allows the spring packs to slide on wear pads without shock loading.
IronDirect, an online equipment seller primarily known as a sales platform for Chinese-made heavy equipment, has added a lineup of 10 Shantui dozers to its product offerings.
The new machines maintain track and blade control with fully hydrostatic transmissions that automatically adjust to load conditions.
Track speed and direction can be controlled individually from the cab with a joystick and integrated thumb wheel. Another joystick controls the six-way, power-angle-tilt blade. Steering and blade control have three settings: aggressive, standard and fine.