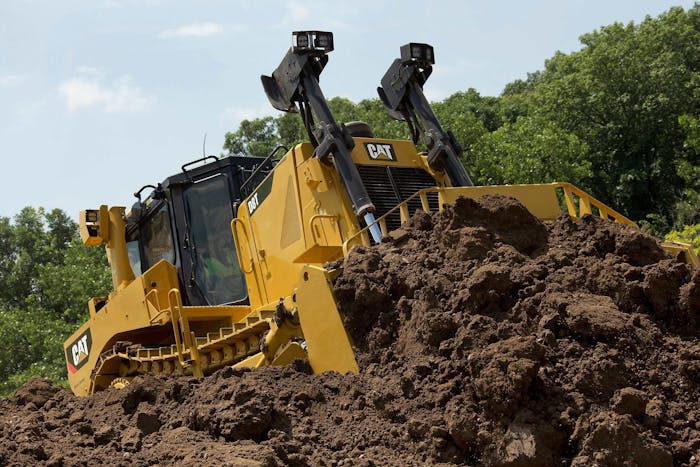 Nearly three months after announcing plans that the company would be moving its global headquarters from Peoria to Chicago, Caterpillar has actually settled on a location a bit further north.
By mid-2018, the world's no. 1 heavy equipment manufacturer plans to call the Chicago suburb of Deerfield its new home. The company will move into Corporate 500 office park and will move about 100 employees to the new location by the end of this year. A total of about 300 will be moved in total, Cat says. The company has established a multi-year lease agreement with the office park.
The Deerfield location was chosen because of its close location to downtown and Chicago's O'Hare International Airport. Cat notes that it is centrally located to major interstates and offers direct access to the Chicago Metra, a commuter rail system.
Topcon Positioning Group has added Kansas City, Missouri-based Griner and Schmitz to its Topcon Solutions Store distribution network, bringing the total number of North American sites to 11. The network was created in early 2016.
"Griner and Schmitz has long been well regarded in customer support and business growth in the Kansas City region, and offers a wealth of experience in meeting customers' needs," says Terry Studebaker, director, Topcon Retail Operations. "Now, joined under the Topcon Solutions Store business model, its strengths will be combined and advanced by the experience and capabilities of the other locations as well."
The dealer has more more than 100 years of experience in the surveying, construction, and engineering industry.
Caterpillar sales and revenue for the first quarter of 2017 reached $9.8 billion, a 4-percent increase compared to the same period last year, with profit per share lower at $0.32, compared to 2016. However, excluding restructuring costs, the figure was $1.28 and twice the same metric for last year.
The company attributes the increase to boosted sales volume primarily in the Resource Industries category due to demand for aftermarket parts. Likewise, Energy & Transportation sales volume was up a bit because of aftermarket demand for reciprocating engines. Sales volume for the Construction Industries segment was flat, however.
"Our team delivered outstanding operational performance and, for the first time in more than two years, same quarter sales and revenues increased," says Caterpillar CEO Jim Umpleby. "We're also benefiting from our significant cost reduction and restructuring actions, which have improved cash flow and further strengthened an already healthy balance sheet. With this momentum, we will continue to focus investment on improving our competitive position by investing in new technologies and improving our productivity to deliver profit growth and shareholder value."
Hino Trucks has added five dealers to its Certified Ultimate network, a program that aims to provide customers with "higher standards at every touch-point throughout the lifecycle of product ownership."
These dealerships include:
♦ H.K. Truck Services, Plainfield, New Jersey
♦ Bentley Truck Services, New Castle, Delaware
♦ Lynch Truck Center, Waterford, Wisconsin
♦ Matheny Motor Truck, Mineral Wells, West Virginia
♦ Industrial Power Truck & Equipment, Ft. Worth, Texas (second Certified Ultimate location)
Total home starts fell 6.8 percent to a seasonally-adjusted annual rate of 1.215 million, according to preliminary data from the Commerce Department. Total starts remain 9.2 percent above the March 2016 figure.
Single-family starts fell 6.2 percent to a rate of 821,000 while multi-family starts fell 6.1 percent to a rate of 385,000. Those rates remain up 9.3 and 9.1 percent, respectively, over their year-ago figures.
Building permits, a good barometer of how the homebuilding industry is trending, were up 3.6 percent in March to a rate of 1.26 million. Permits are up 17 percent above the March 2016 rate.
The National Association of Home Builders reports that confidence among its members fell 3 points to a reading of 68 in the latest release of the NAHB/Wells Fargo Housing Market Index (HMI). Any reading above a 50 indicates most home builders believe market conditions are good.