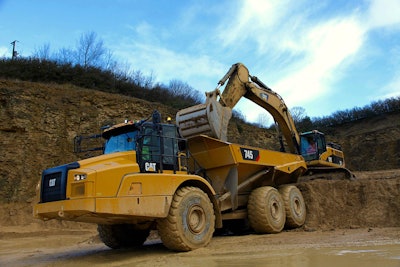 Caterpillar sales and revenue for the first quarter of 2017 reached $9.8 billion, a 4-percent increase compared to the same period last year, with profit per share lower at $0.32, compared to 2016. However, excluding restructuring costs, the figure was $1.28 and twice the same metric for last year.
The company attributes the increase to boosted sales volume primarily in the Resource Industries category due to demand for aftermarket parts. Likewise, Energy & Transportation sales volume was up a bit because of aftermarket demand for reciprocating engines. Sales volume for the Construction Industries segment was flat, however.
"Our team delivered outstanding operational performance and, for the first time in more than two years, same quarter sales and revenues increased," says Caterpillar CEO Jim Umpleby. "We're also benefiting from our significant cost reduction and restructuring actions, which have improved cash flow and further strengthened an already healthy balance sheet. With this momentum, we will continue to focus investment on improving our competitive position by investing in new technologies and improving our productivity to deliver profit growth and shareholder value."
Cat reports operating profit fell by $77 million, from $494 million to $417 million due to higher restructuring costs. Without those, the operating profit was $514 million, an improvement over last year's first quarter, mainly due to increase sales, "with nearly half of that increase due to a favorable mix of products.
The company says its first quarter restructuring figure, at $752 million, was due mostly to closing the Gosselies, Belgium, facility, and was much higher than the 2016 first quarter restructuring costs of $161 million.
Dealer engine and machine inventories grew by roughly $200 million in the first quarter this year, considerably lower than the $300 million increase in the same period last year. The Order backlog was roughly $14.8 billion at the end of the first quarter for 2017, about $2.7 billion more than the end of 2016 and $1.7 billion more than the same period in 2016.
Dealers generally increase inventories in the first quarter in preparation for the spring selling season. Dealer machine and engine inventories increased about $200 million in the first quarter of 2017, compared to an increase of about $300 million in the first quarter of 2016.
Construction Industries
Sales in this segment reached $4.09 billion, only slightly higher than the $4.04 billion for the same period in 2016, and due to "favorable price realization, partially offset by slightly lower volume." Profit improved significantly, at $635 million compared to $440 million the previous year, and was helped by "the favorable impact of restructuring and cost reduction actions."
North American sales dropped by 7 percent ($145 million) in the first quarter compared to last year, at $1.91 billion. Cat says this was due to lower demand and changes in dealer inventories. That decreased demand was due to lower rental fleet deliveries compared to 2016, and dealer inventories were up "significantly" compared to the previous year.
"Although residential and non-residential building construction activity improved, the company believes demand for new construction equipment has remained low due to end users' utilization of existing used equipment and weak infrastructure development," the company reports.
Latin America sales for the first quarter were $250 million (8 percent increase), Asia/Pacific were $1.12 billion (23 percent increase) and EAME were $812 million (4 percent decrease).
"Sales in Asia/Pacific were higher as a result of an increase in end-user demand, primarily in China, stemming from increased government support for infrastructure and strong residential investment," Cat reports. "This increase was partially offset by an unfavorable impact from changes in dealer inventories, primarily in China, which were about flat in the first quarter of 2016 and decreased in the first quarter of 2017."
Resource Industries
Sales for this segment increased 15 percent in the first quarter compared to 2016, to $1.67 billion, with the increase coming primarily from aftermarket parts. Cat says sales for aftermarket parts have increased in each of the last four quarters. Dealer inventories increased a bit, compared to a drop-off in the first quarter of 2016.
"Increases in certain commodity prices over the past year, along with continued commodity consumption, have resulted in increased mining production driving the need for maintenance and rebuild activities," the company states. "The company believes commodity prices need to stabilize at these higher levels to drive stronger activity and longer-term demand for both equipment and aftermarket parts."
Profit for resource industries climbed to $158 million in the first quarter, compared to a lost of $96 million in the same period in 2016.
North America sales were slightly lower, dropping 1 percent to $598 million, followed by the EAME region at $416 million (59 percent increase), Asia/Pacific at $387 million (23 percent increase) and Latin America at $269 million (flat).
Energy & Transportation
Sales increased by 2 percent for this category, hitting $3.36 billion on improved sales of aftermarket parts for reciprocating engines. Profit improved to $552 million for the first quarter this year, a substantial increase over the $410 million in the same period last year.
For oil and gas in this segment, the sale increase was mostly in North America " due to higher demand for aftermarket parts as a result of relatively stable oil prices and increasing fleet utilization as well as for reciprocating engines used in gas compression as natural gas pipeline build-out continued." Total sales for the first quarter in this region climbed 10 percent to $1.72 billion. The EAME region followed with $900 million (8 percent decline), Asia/Pacific with $459 million (13 percent drop) and Latin America with $275 million (38 percent increase).
2017 Outlook
Cat expects profit per share for the full year to reach roughly $2.10, or about the "midpoint" of the outlook range for sales and revenue, and about $3.75 per share excluding restructuring. The latter is an improvement on the previous outlook at $290 per share, but the former is a drop from the previous outlook of $2.30 per share.
The company says restructuring costs will be higher due to facility consolidations, with an expectation of $1.25 billion in total restructuring costs for 2017, which is $750 million more than previously expected due to the efforts at the Gosselies, Belgium and Aurora, Illinois, sites.
"There are encouraging signs, with promising quoting activity in many of the markets we serve and retail sales to users turning positive for both machines and Energy & Transportation for the first time in several years," Umpleby adds. "While we are raising the full-year outlook for sales and revenues, there continues to be uncertainty across the globe, potential for volatility in commodity prices, and weakness in key markets."
Cat Financial
Cat Financial, a wholly owned subsidiary of Caterpillar, saw revenues for the first quarter increased by 3 percent, to $662 million, with a $115 million profit that increased by 15 percent compared to 2016.
The company reports this was a result of a $24 million impact from increased average financing rates and a $12 million impact from miscellaneous revenue.
Cat says profit before income taxed reached $167 million, a slight increase from the $145 million in the first quarter last year.
"Our portfolio and business performed well, reflecting a stable portfolio and good operational execution," said Dave Walton, president of Cat Financial and vice president with responsibility for the Financial Products Division of Caterpillar Inc. "The global Cat Financial team delivered solid results and we continue to be well-positioned to serve Caterpillar, Cat dealers and customers worldwide."