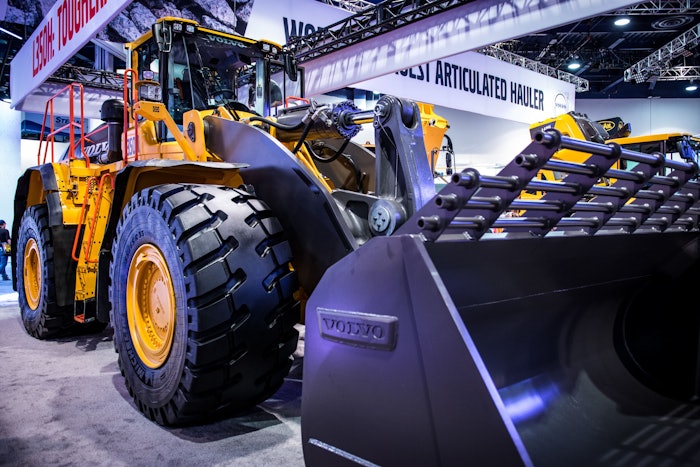 Expected to be available early next year, Volvo debuted the all-new flagship of its wheel loader range, the L350H. It features a 10-percent improvement in fuel efficiency and a host of other productivity improvements, as well as a new design.
So what does it take to design a flagship unit? "Number one, you want to come out with something that you really believe in and is going to take you a step forward," says Stefan Salomonsson, product manager, Volvo Construction Equipment North America. "With this unit, I think we've done that. We were leading this class before when it comes to fuel efficiency and production. With this product, we took another step forward with an additional 10 percent in fuel efficiency."
Unveiling of the L350H drew a crowd during the opening morning of ConExpo-Con/Agg 2017.
At ConExpo in Las Vegas, Bobcat has unveiled its R-Series compact excavators, a 13-model lineup that will be launched in two phases during 2017.
The first phase, introduced at ConExpo this week, will include the popular 3-to-4-ton class E32 and E35 models. The machines feature a dual-flange redesigned track system and an optimized rear counterweight. The dual-flange rollers extend the excavator's undercarriage structure closer to the track's edge and provide up to a 15-percent increase in over-the-side capacity. Bobcat says this feature improves over-the-side digging performance and slewing ability, in addition to improving ride quality.
Teased prior to ConExpo as "Project Minotaur," Case Construction Equipment's DL450 is billed as a "Compact Dozer Loader" that combines a compact track loader (CTL) with a dozer. Case is using ConExpo to get contractor feedback on the concept machine.
"We didn't want to just create a reaction," says Scott Harris, vice president, North America, Case Construction Equipment. "Instead, ours is a practical revolution of two product lines."
(Case brand manager for skid steers and CTLs, John Dotto, takes us through the main features of the DL450 and the challenges and decisions behind its design in the below video.)
Hyundai on Tuesday unveiled a new tandem-drum compaction roller and introduced four single-drum models updated with new engines at ConExpo 2017 in Las Vegas.
The new model is the HR26T-9. This roller weighs in at 6,400 pounds, has a drum width of 47 inches (working width is 49 inches) and is powered by a 31-horsepower, Tier 4 Interim Deutz D 2011 L2i diesel.
Hyundai says while its tandem-drum rollers are designed for asphalt paving and maintenance, the HR26T-9 can also be used for soil compaction—a job typically reserved for its single-drum lineup.
Though hundreds of machines are making their debut here in Las Vegas this week at the ConExpo/Con-Agg and IFPE shows, one piece of equipment in particular has created quite a buzz.
Project AME (pronounced "Amy') is a 3D-printed excavator produced through a consortium of research teams that are part of the Center for Compact and Efficient Fluid Power (CCEFP). The excavator was unveiled as part of the opening of the show's new Tech Experience area near the South Hall.
The idea to produce a wholly 3D-printed excavator came in 2014 while CCEFP members were on a tour of Oak Ridge National Laboratory in Knoxville, Tennessee, according to a ConExpo show release. During the tour, the group was shown a car 3D printed for another trade show. Inspired, the CCEFP got to work on a machine for ConExpo and IFPE.