Holt Ventures, the investment arm of dealer Holt Caterpillar, along with Caterpillar Ventures, Brick & Mortar Ventures and Cottonwood Technology Fund, selected three winners in the Industrial Technology Pitch Competition held at the South by Southwest Startup Village March 14 in Austin, Texas.
The group of investment firms held the competition to find award startups with "disruptive potential in the industrial space" in three categories:
Seed Stage: For startups seeking seed funding, with additional criteria including: determining problem/solution fit, establishing product/market fit with early or line of sight customer/partnership traction.
Advanced Seed Stage: Including startups seeking additional seed or bridge funding, with other criteria including: seed stage plus established customer/partnership traction and positive revenue trends.
Series A/B Stage: Meant for startups seeking series A/B funding and scale and partnership opportunities.
Out of 100 submissions, the groups selected 15 total startups – five in each category. In addition to cash prizes, the winners will receive tours of Holt Cat headquarters and Caterpillar's R&D and machine testing facilities as well as feedback and fundraising strategy coaching from Brick & Mortar and Cottonwood.
"This was a brainchild a number of months ago and has culminated with this event," says Edward Craner, senior vice president, strategy and marketing at Holt Companies, who kicked off the event. "Over the course of the last six months we've been working on this pitch competition."
Each startup was given three minutes to present their pitch, followed by a 5-minute question and answer session conducted by three judges made up of representatives from the four venture companies. Those same judges also scored each pitch.
The winners, followed by other finalists, for each category include:
Seed Stage
Winner: PermitZone, Myrtle Beach, South Carolina
Cash prize: $15,000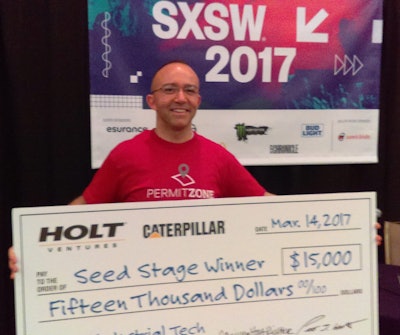 PermitZone is an aggregator of permit and zoning information covering more than 33,000 municipalities across the country and helps contractors pull permits online.
Ray Antonino, founder and CEO, had previously run Titus Titan Corporation, a construction firm doing work in Georgia, North Carolina and South Carolina, but quit that to run PermitZone about a year ago.
"Right now our sole focus is larger corporations that pull permits in multiple areas," he says. Initially he started off trying to reach small construction companies, but found that to be a mistake.
"I thought that they would see the value in the efficiency of not having to go to the building department themselves," Antonino explains. "The truth is they've built in this mindset of soft cost. It's a soft cost to them ­– it's not a hard cost."
"As an entrepreneur I can see that if I send somebody and it takes three hours to get something done it'll cost X – it's real money – they can't see it. It's just built in."
And bigger contractors, he says, see it as really money as well. "Now large corporations – they see this also as visibility of all their permits in one place."
Other finalists:
Addibots, New Windsor, New York
Genesis Dimensions, Houston, Texas
Passive Eye, London
Williams Robotics, Burlington, North Carolina
Advanced Seed Stage
Winner: Yan Engines, Austin, Texas
Cash prize: $15,000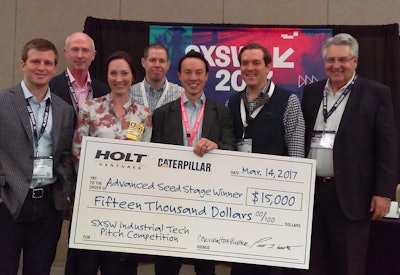 Yan Engines has created D-cycle pistons – a split piston with the top half of the piston separated from the bottom half, which completes the four engine strokes in a single crankshaft revolution. The top half of the piston movement is for "low stress functions" of gas exchange, with both halves coming together to be used for "high stress" compression and combustion.
Other finalists:
Dauber Applications, San Antonio, Texas
Dynamo Micropower, Somerville, Massachusetts
Eyrus, Washington, D.C.
Rufus Labs, Los Angeles
Series A/B Stage
Winner: 5D Robotics, Carlsbad, California
Cash prize: $20,000
5D Robotics provides software and sensors for connected vehicles using Ultra Wide Band Radio Frequency Positioning. United Rentals is using the technology to prevent collisions, and New York City is testing the technology as part of its connected vehicle pilot program Vision Zero. You can read more about 5D here.
Other finalists:
Arevo Labs, Santa Clara, California
Bractlet, Austin, Texas
Rhumbix, San Francisco
Viloc, Antwerp, Belgium