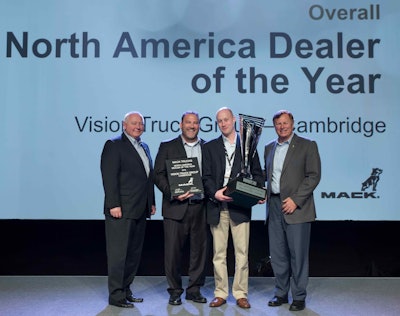 Mack Trucks has named Ontario-based Vision Truck Group as its 2016 North American Dealer of the Year. It also received the overall Customer Service Award.
The dealership reached 189 percent of its sales goal for the year and hit 25 percent market share in its respective region, Mack reports. It also marked its 50th anniversary in 2016 and "made significant investments in facilities, services and people."
"Vision Truck Group exemplifies the kind of organization customers are drawn to, and for good reason," says Jonathan Randall, senior vice president of sales for Mack Trucks North America. "The service, support and dedication they provide keeps their customers on the road and earning, and Mack Trucks is proud to be their partner."
Vision Truck Group has six commercial truck centers in southwestern Ontario, and offers a "certified and solutions-based modification team, enhancing vocational trucks for optimum performance," Mack says.
The company also named regional sales division winners for 2016 performance. These include:
Northeast Region
Bergey's Truck Center, Souderton, Pennsylvania
Southeast Region
Transource Truck and Trailer Center, Greensboro, North Carolina
Central Region
M&K Truck Centers, Chicago, Illinois
Southwest Region
East Texas Mack Sales, Longview, Texas
West Region
Mountain West Truck Center, Salt Lake City, Utah
Canada Region
Vision Truck Group, Cambridge, Ontario, Canada
Nextran Rental and Leasing, Jacksonville, Florida, was named the Mack Leasing North America Dealer of the Year and Mack of Nashville LLC, Nashville, Tennessee, was named the North America Remarketing Dealer of the Year.