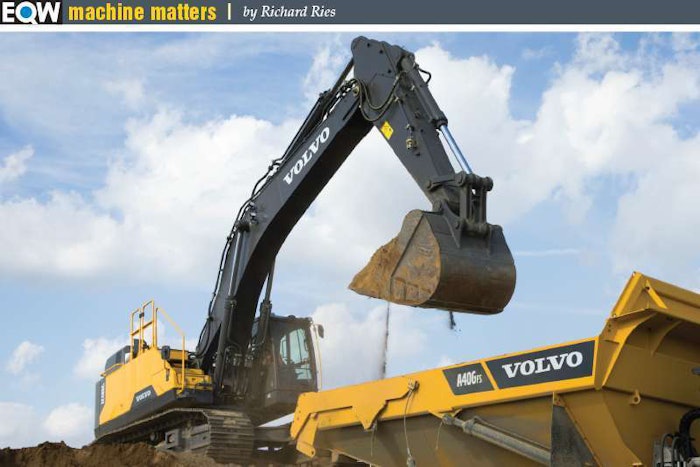 Excavators in the 35- to 50-ton class are being shaped by market forces and technology. While most of them still do what they've always done – mass excavation – many serve expanded roles, and the future for this class is bright.
For years, features – including electrohydraulics and work modes – have trickled down from larger excavators to smaller models. When first introduced, these features and the technology enabling them could be costly. But as the costs dropped, these features were included in lower-priced machines.
Now it seems features are trickling up. Smaller excavators have become prime movers for a wide range of buckets, augers, compaction tools and more. These attachments and the bidirectional hydraulic flow needed to run many of them are becoming more common in larger machines. Specialty buckets for ditching and dredging and buckets with thumbs are being sized to fit these larger machines. The take rate for quick-attach couplings and auxiliary hydraulics is growing as more customers have either an existing or an anticipated need for attachments.
Read the full story here.
Following more than a year of speculation and years of online car-forum wishful posts, the Detroit-automaker says it's bring back the mid-size Ranger pickup for the 2019 model year and the iconic Bronco SUV for model year 2020.
Joe Hinrichs, Ford's president of the Americas, says the 2019 Ranger— the best selling pickup in Europe—will feature unique styling and engines for its re-entry into the U.S. market after being discontinued here following the 2012 model year.
In a follow-up tweet Ford spokesman Mike Levine added a bit more context to Hinrichs' Ranger comments saying "The all-new Ford Ranger will be tailored to the needs of North American customers with unique front styling, engines and features." That means the North American Ranger will likely look different from the Euro-centric styling of the Ranger still being sold internationally.
Read the full story here.
Ford's F-150, the best selling pickup in the U.S. for the last 40 consecutive years, still has some "firsts" up its sleeve.
Just three years removed from debuting a high-strength aluminum bodied F-150, Ford announced Sunday that along with an overhaul of the truck's design, it will roll out the company's first diesel-powered engine option for its flagship pickup in 2018.
The 2018 F-150 will make available a Ford designed and engineered 3.0-liter Power Stroke diesel engine paired with its 10-speed automatic transmission.
Read the full story here.
Ram has unveiled a a special "Black" edition of its Rebel pickup that integrates dark design features into the stylish off-road-focused truck.
The Rebel Black will be set apart from other Rebel models through the addition of black wheels, a black brush guard and an all-black interior.
And though the effect of this special edition is obviously most dramatic with the truck's black body color, Ram says the package will be offered with all available Rebel colors.
Read the full story here.
Saying the machine incorporates features found on larger units while maintaining the most compact footprint in its class, Ditch Witch has introduced its updated JT10 horizontal directional drill.
Powered by a 66-horsepower Deutz diesel engine, Ditch Witch says the new JT10 is the most powerful HDD in its class. The drill delivers 10,000 pounds of pullback force and boasts a standard 16-gallon-per-minute pump.
"Today's operators are facing more challenging environments, especially those found on compact, urban jobsites, and the JT10 helps combat those challenges," says Seth Matthesen, Ditch Witch senior product manager for horizontal directional drills.
Read the full story here.