Excavators in the 35- to 50-ton class are being shaped by market forces and technology. While most of them still do what they've always done – mass excavation – many serve expanded roles, and the future for this class is bright.
Reverse trickle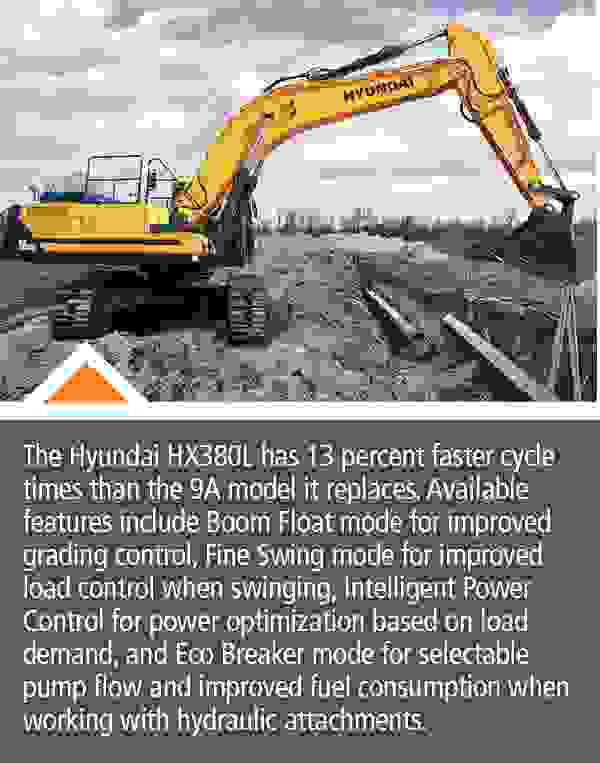 For years, features – including electrohydraulics and work modes – have trickled down from larger excavators to smaller models. When first introduced, these features and the technology enabling them could be costly. But as the costs dropped, these features were included in lower-priced machines.
Now it seems features are trickling up. Smaller excavators have become prime movers for a wide range of buckets, augers, compaction tools and more. These attachments and the bidirectional hydraulic flow needed to run many of them are becoming more common in larger machines. Specialty buckets for ditching and dredging and buckets with thumbs are being sized to fit these larger machines. The take rate for quick-attach couplings and auxiliary hydraulics is growing as more customers have either an existing or an anticipated need for attachments.
Among attachments, shears and hammers are the most popular as demolition gains prominence in excavators' applications repertoire. "The majority of our customers asking for machines in these size classes are using them in demolition applications," says Marcus Barnes, excavator product specialist, Liebherr.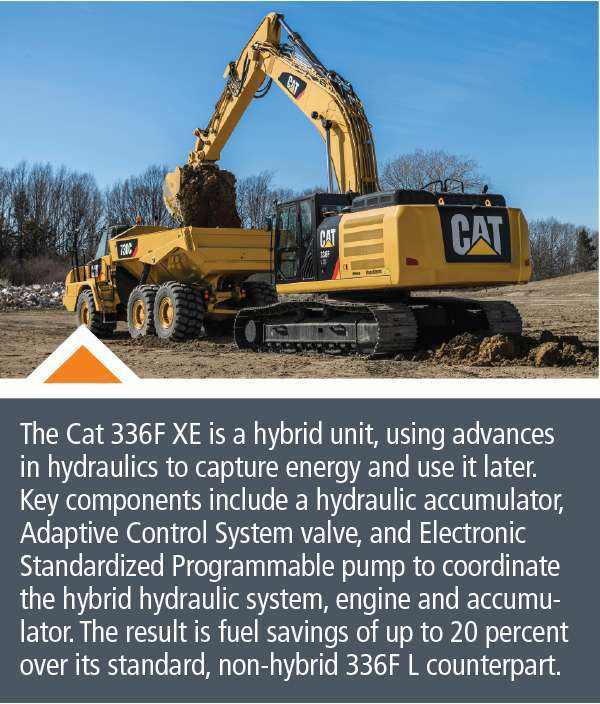 Even customers doing mostly digging expect quick-change versatility, says Kurt Moncini, senior manager for tracked products, Komatsu. "In trenching applications where multiple buckets are used, such as underground utility, the time between bucket changes can be reduced to seconds. Changing buckets quickly to suit the task at hand is important because you don't want to excavate more than necessary."
Something else showing up on larger machines is demand for reduced-tailswing design. Once considered helpful only for smaller machines working in tight spaces, reduced tailswing is finding favor in all kinds of urban, bridge and road construction. "Tight" is relative and traffic, adjacent buildings, and other barriers can make the working environment on the largest site seem claustrophobic. "Customers inquire about reduced tailswing on even 50-ton machines," says Barnes, "so they can bring a large excavator to the job and still close only one lane of traffic."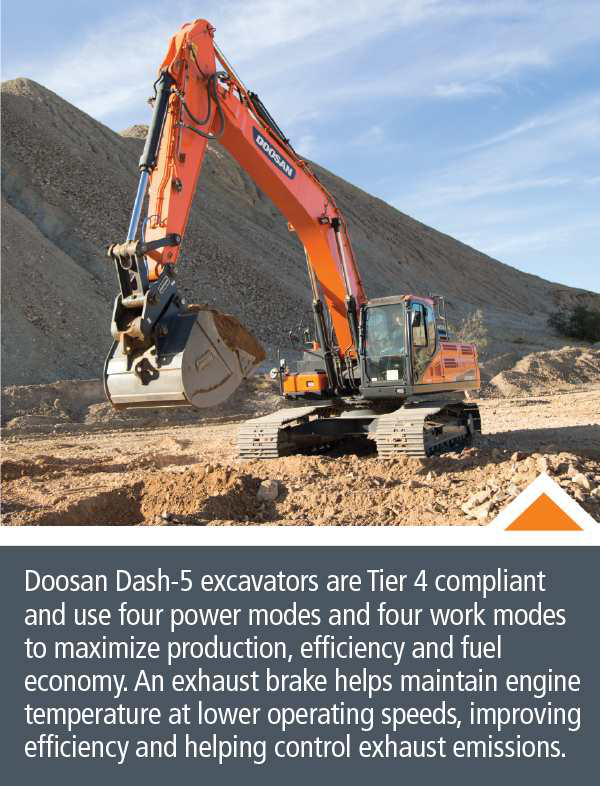 All this is in response to customers' need to do more work with fewer machines, says Moncini. "In infrastructure work, for example, we're seeing one excavator being used for demolition, load-out and reconstruction."
Pressure for profit
Pressure is as high as ever for profitability, and a key to profit is utilization rate. Many contractors are now opting to own only when utilization rates reach as high as 80 percent, as opposed to previously when they considered owning an excavator when utilization rates reached 60 percent.
Brian Stellbrink, excavator product specialist, Caterpillar, says mid-size excavators are in the sweet spot of size. They can load both highway dump trucks and articulated dump trucks efficiently and yet are relatively easy to transport. Stellbrink says for most models in this size range, it's track-on-and-go. Bigger machines may require the removal of the bucket, bucket and stick, or counterweight prior to transport. Caterpillar is among the manufacturers offering optional counterweight removal systems to ease transport when required. This all varies by region and even by state once bridge restrictions and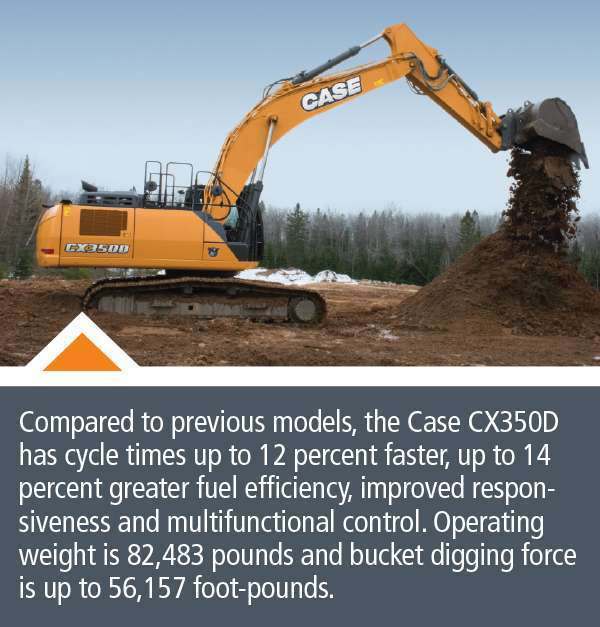 other limitations are considered. "Because of the versatility, we see customers with machines in this size class seeking to thin their fleet of smaller machines to make the most efficient use of their assets," Stellbrink adds. This boosts the utilization rate of the remaining excavators and helps control costs.
Utilization is also driving changes in the way excavators are acquired. While most still go out as traditional purchases, there is a trend toward short-term leases, rental, and rent or lease with purchase options. This provides flexibility in uncertain times and access to machines for the duration of specific projects. Purchase options also lower monthly payments for customers who know from the start they'll want to buy the machine at the end of the lease agreement. "A 6- or 12-month RPO reduces the amount of the subsequent 24 or 30 months of purchase payments," says Aaron Kleingartner, sales and marketing development manager, Doosan.
One manufacturer, XCMG-Intensus, is almost entirely committed to the rental market. "Some customers simply want to own equipment and we sell to them," says Mike Salcedo, vice president of earthmoving products. "But overall the market is moving to rental." Their biggest customer is Ahern Rentals, Las Vegas, with more than 41,000 pieces of rental equipment available at its 81 nationwide locations. XCMG has been modifying stock excavators for Ahern, but starting this year they will have Ahern-specific machines built to Ahern specs.
Catering to rental is more than paint color, says Salcedo. Popular rental features include central lubrication (although not autolube), quick-attach couplers, 2-way flow for attachments and rear-view cameras. Ahern specs also cover labeling, languages and on-screen menu items and how they're arranged. "We want to make it as easy as possible for anyone from the culturally-diverse pool of operators to get into one of our machines and run it safely and efficiently."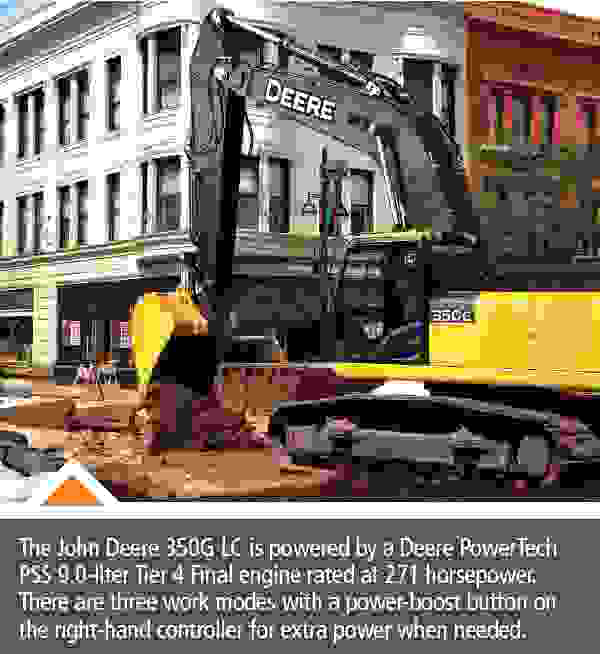 Adam Woods, product marketing specialist at LBX, the parent company of Link-Belt, says there's a sense of urgency in the industry and that customers "are more concerned with getting the job done faster." To address this, the cycle times of Link-Belt X4 Series machines are faster than the cycle times of the models they replace. And  features such as a common location for filters and easy access to fluid sample ports save time for service personnel.
Common ground
The theme running through all excavators of all sizes in all markets is electronics. Work modes balancing engine and hydraulic performance and programmable modes for specific attachments are among the key features making modern excavators so efficient and versatile. They also improve the performance of less-experienced operators. Beyond modes and programming, simple day-to-day operation is easier and more precise. Mark Wall, product marketing manager, excavators, with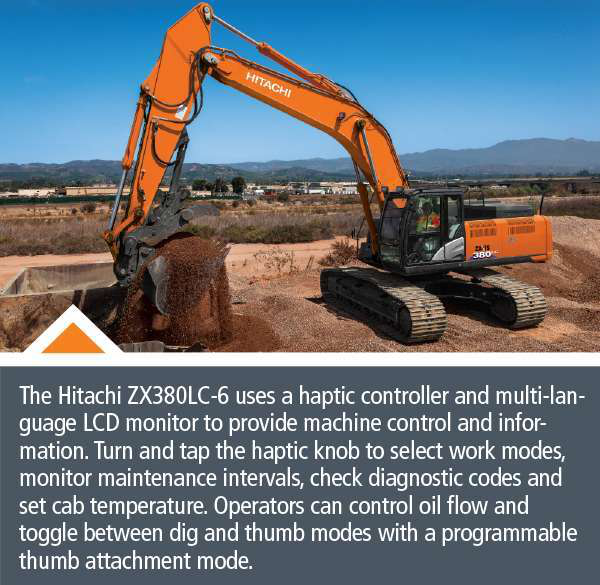 Hitachi and John Deere, cites the push-button operation of auxiliary hydraulics in Hitachi excavators as an example. "We continually reinforce the importance of ergonomically correct levers that provide smooth, precise control with less effort. This makes a huge difference, especially when you're working a long shift."
Barnes says Liebherr offers joysticks, foot pedals and proportional mini-joystick control options. With the mini-joysticks, operators can allocate power and flow between travel and attachments.
In the early days of electronics, buttons and switches sprouted like mushrooms. The current trend is to reduce the complexity of the interface between the operator and the machine. The number of switches on Volvo E-Series excavators is reduced by 50 percent compared to the models they replace. Several functions have been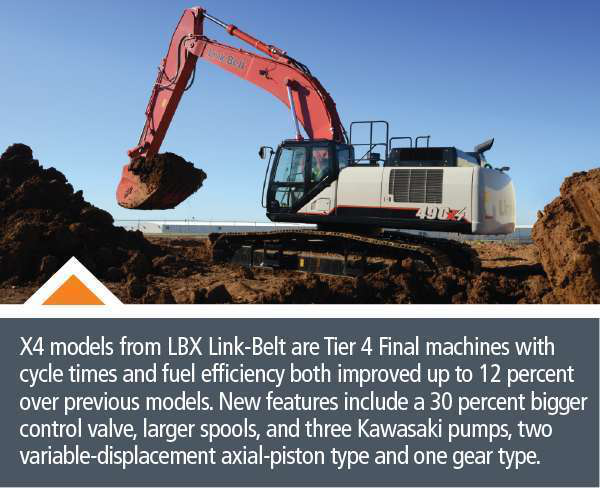 consolidated into a keypad next to the right joystick. Work Mode settings control both engine speed and pump speed with a single dial. "The assumption has always been that higher engine speed equals greater productivity," says Matt McLean, GPE product manager, Volvo. "But our design gives maximum torque at impressively low rpm for the best balance of power, control and fuel efficiency."
Sebastian Witkowski, product marketing manager for intelligent machine control, Komatsu, says demand for machine control is increasing. At some point all contractors competing for the same job will have machine control on their machines and there will be parity. Right now there's a big gap between the haves and the have-nots and those with machine control enjoy a distinct advantage over those without it, he says. "With Komatsu Intelligent Machine Control, for example, there's no need for a follow dozer or grade checkers," says Witkowski. Komatsu partnered with Topcon on some components, but Komatsu's in-house engineers designed the balance of the factory-installed machine control options on their equipment.
Where do we go from here?
Woods says "our customer base is still focused mainly on construction with some mining and quarry work. And while shears, hammers and chippers, and specialty buckets are increasing in popularity, conventional buckets for excavation remain the most popular choice."
Subject matter experts at JCB say things will be stable in other aspects, too. Tyler Peterson, product manager for large excavators, and Sam Wagstaff, sales manager for large excavators, say they expect the sales mix to remain around 70 percent construction and 30 percent rental with waste and recycling, demolition, and quarries maintaining their shares within those categories.
The changes Peterson and Wagstaff predict involve jobsite communication and control. "The next big thing is jobsite integration," says
Wagstaff, "with all equipment, operators and support equipment communicating in real time." Which leads some to envision an autonomous jobsite where plans are shared by all equipment and each machine knows the proximity of every other machine and they all work together to get the job done.