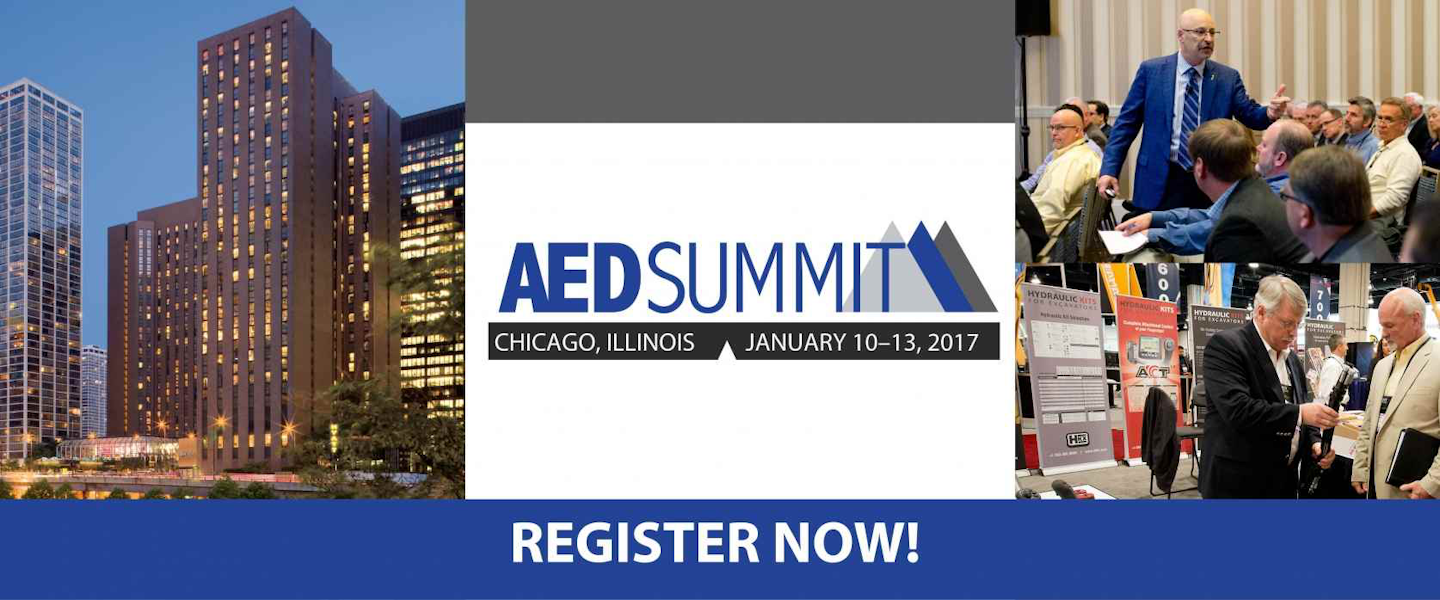 The final day of dealer education sessions during the Associated Equipment Distributors (AED) Summit Jan. 10-13 in Chicago will cover marketing strategies for online buyers, employment law, financial operations, tax planning and parts sales. Here are details on the sessions scheduled for Jan. 12. You can see previous schedules here.
Professional Dealer Education Sessions
Jan. 12
2-3:15 p.m. (concurrently)
Modern Marketing Strategies for Engaging Invisible Buyers Online
Grand Suite 5
Steve Pizzolato, CEO, AVALA Marketing Group
"In today's marketing landscape, you are competing for the attention of invisible buyers; prospects who are researching products and services online and making purchase decisions before stepping foot into a dealership. Gain an advantage over your competition by joining this interactive discussion on how to attract and engage prospects online using technology and modern marketing techniques."
The Evolution of Employment Law: How Social Media, Marijuana, and LGBTQ Rights Impact Your Business
Grand Suite 3
Michael Airdo, partner, Kopon Airdo, LLC
"Employment law is complex and always evolving. Your dealership needs to be continuously updated on the changes in workplace laws to avoid legal liability. It is not just law that is evolving; society and culture in America is evolving, as well. Employees are taking what were private typical workplace conversation in the lunchroom to be broadcast on social media platforms, like Facebook and Twitter. The use of medical and recreational marijuana is becoming increasingly legal in states across the country, and some of your employees may be using it. States are passing various, unique laws involving same-sex marriage and other protections of the LGBTQ community. This presentation will discuss the growing legal and social issues that the dealership faces in the emerging areas of social media, marijuana, and gay, lesbian, and transgendered people, and best practices for preparing your business to protect your dealership regarding potential pitfalls in addressing these ever-evolving legal issues."
Communicating with Impact: Managing Personalities Different than Yours
Columbus Hall AB
Amy Parrish
"There are four dominant styles that drive our personality and communication approaches. Understanding the differences in these styles can make all the difference in productivity, leading and understanding in those we manage. When leaders understand the styles of those they manage, conflict is less likely to arise and productivity soars. Begin to understand your own approach to perceiving information and the approaches of other styles so you can alter your speech and communication techniques so you are heard and understood."
A Financial Perspective on Dealership Operations
Columbus Hall EF
Dave Semb, partner, PriSim Business War Games
"Regardless of your role at the dealership, your department directly impacts the dealership's financial statements. However, if you don't work with financials on a regular basis, they can be difficult to decipher. This interactive boardgame exercise will bring the financial statements to life and immerse you in the actual details of several dealership transactions. Class participants will be divided into teams and presented with specific scenarios to play out by moving poker chips representing money to the appropriate locations on a gameboard representing an Income Statement and a Balance Sheet. After the exercise you will better understand how the financials reflect the performance of your dealership."
Future Distribution – Rent to Rent is Required!
Columbus Hall CD
Larry Kaye, president, Script International
"This seminar will examine the changing marketplace and how the high performing AED dealerships are embracing rent to rent. The numbers are quite clear, those dealers that are intentional about growing their rental business are more profitable than those that don't. We will review the AED Cost of Doing Business Survey and help you understand why Rent to Rent needs to be part of your strategic growth plan. This is such an important issue for the near term profitability and the future sustainability of your enterprise, don't miss it."
Investing in Relationship Capital
Columbus Hall IJ
Ed Wallace, president and chief relationship officer, The Relational Capital Group
"This highly interactive presentation will focus on the importance of advancing key relationships that impact business performance and make work more enjoyable. Ed will discuss challenges and opportunities and share "Max" the taxi cab driver's stories that illustrate his simply profound approach – 'our success is by, with, and through the experience we create for other people.' This session will center on the participants' creating a 'competitor proof' experience for their customers through the following relational capital concepts: The Principle of Worthy Intent, Relational GPS® — the road map to relational success, Essential Qualities of Credibility, Integrity, and Authenticity and more."
Dealer Tax Opportunities for 2017
Columbus Hall G
David Fowler, PWC
"Tax planning opportunities that are often overlooked by equipment distributors including opportunities to either accelerate tax deductions or to defer the recognition of taxable income. This session will focus on tax opportunities involving: dealer inventory, accounts receivable, accrued and prepaid expenses, fixed assets and how and when to implement beneficial changes in your tax accounting methods."
What's Your Uber?
Columbus Hall KL
Tom Morrison, president and CEO, Tom Morrison & Associates
"In a recent study by IBM, senior executives of thousands of companies stated that their #1 fear for the future was the "Uberization" of their industry or marketplace.  This energetic and informative session will help provide the keys in researching and determining what future disruption is coming your way.  Tom Morrison will share with you various forms of disruption that are going to create havoc in many industries and associations connected to them as well as what you need to be doing to embrace these shifts."
3:30-4:45 p.m. (concurrently)
Maximizing Parts Sales and Profitability
Columbus Hall EF
Bill Mayes, facilitator, Machinery Advisors Consortium
"You sold the machine…now what? The days of the captive part are gone! Unless you are aggressively pursuing the business at least half of your potential parts sales are going to someone else. Today customers live in a world full of options. Make sure that you are your customers' first choice for parts and service."
More than Just Compliance: The Changing Face of Wage and Labor Law
Columbus Hall AB
Michael Airdo, partner, Kopon Airdo, LLC
"This presentation will primarily focus on the biggest change in wage and labor law in the United States in 2016: the overtime rules under the Fair Labor Standards Act. On May 18, 2016, President Obama announced the publication of the Department of Labor's final rule, which updates the Fair Labor Standards Act's overtime regulations. According to the Department of Labor, the new rules will automatically extend pay protections to over four million workers within the first year of implementation. The presentation will highlight the Act's definitions for exempt employees, including executives, administrative employees, professionals, "outside" and "inside" sales employees, and computer employees. It will also discuss the liability your company can be subject to if it misclassifies its employees, as well as how to properly classify and pay your employees so as to avoid liability under the Act."
Top 10 Reasons Why Your Rent to Rent Fleet is Underperforming
Columbus Hall CD
Larry Kaye, president, Script International
"This seminar will take a detail look at the most common issues facing dealers today with rental fleets and why they may not be performing well. Having the right expectations to begin with is important but also measuring and monitoring the right things is vitally important. Sometimes the issues are external to the business, however most of the time it is internal issues. Identifying these hurdles is the first step in overcoming them. Your takeaways from this session will turn into real dollars when you implement the recommended changes. Don't miss this seminar as it will turn into a pipeline of revenue!"
Predictive Marketing Strategies for the Data-Driven Dealer
Grand Suite 3
Steve Pizzolato, CEO, AVALA Marketing Group
"There's a good chance you've spent thousands of dollars on prospecting and generating new leads for your dealership. You know firsthand how time- consuming, expensive, and challenging it is to make the most out of the leads you acquire. But what if you could generate new leads by using customer and prospect data? This presentation will reveal some of the latest data-driven prospecting and predictive marketing strategies that will help you generate new customers and activate current customers."
Getting More Done – Effectiveness and Time Management
Columbus Hall IJ
Amy Parrish
"Everyone is busy. Everyone is not productive. Our relationship with time starts with managing our priorities. How do we fit these priorities into our day? Reacting to customers is our business. This course takes a look at how to be proactive in managing the tasks of putting out fires and reacting to customer crises in a timely and planned approach. We will cover approaches to saving time and being more effective on the job while advancing our top priorities."
Forecasting for 2017: An Economic Outlook
Columbus Hall KL
Eli Lustgarten, president ESL Consultants
"Get an insider's view of the U.S. economy and learn how it will impact the market for construction machinery. Know the strengths and concerns for the U.S. market among key sectors such as housing, capital expenditures, and energy. Find out if the effects of a soft global market will be felt back home."
The Science Of Silence: Can You Hear Your Body Talking?
Grand Suite 5
Eliot Hoppe, managing director, Paramount Learning Systems
"Do you know that body language accounts for up to 100% of all communication? Imagine the advantage everyone will have when they are given the keys to this secret skill. This enjoyable presentation focuses on the vital role that body language and nonverbal cues play when we interact with others. Participants will learn how to project their own signals and decode their customers' body movements, gestures and facial expressions. Now think of the competitive edge your team will gain when communicating with others."
More details on the 2017 AED Summit and CONDEX is available at http://aednet.org/summit.