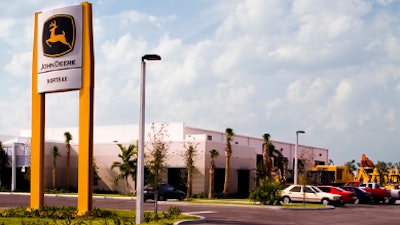 Nortrax, which operates John Deere construction and forestry dealerships in the U.S. and Canada, has added John Fairley to its Used Equipment Division in the company's Southeast Region, and Randy Klug to its sales team in Merrill, Wisconsin.
Fairley most recent worked as the equipment division manager for a heavy highway, bridge and paving contractor. He also spent time as regional sales manager for Ritchie Brothers Auctioneers, general manager for Sure-Way Systems and positions in sales with E&E Equipment Sales and Ditch Witch.
He will be based at the Lutz Nortax location and have responsibility over seven locations in southern Florida with nearly 30 salespeople.
Read the full story here.
Safway Group has purchased SafeWorks, a provider of suspended access equipment sales, rental, services and support through 25 branches in the Americas in addition to a global dealer network an manufacturing sites in the U.S. South America and Europe.
"SafeWorks is a leading provider of suspended access solutions with premium brands that have a 70-year history of leadership in North America and Europe," says Bill Hayes, Safway Group president and CEO. "With a terrific management team, highly specialized, market-recognized expertise, and outstanding technical, engineering and manufacturing capabilities, SafeWorks will significantly expand our product and solutions offerings in important and diverse markets."
This purchase is one of 14 Safway Group has made over the last six years, a move the company says is part of a strategy to expand into "core" target markets, including refineries, petrochemical, power, infrastructure, commercial restoration, refurbishment and new construction.
Read the full story here.
A snapshot of new and used sales trends for trenchers from Randall-Reilly's Equipment Data Associates and TopBid auction price service.
Read the full story here.
U.S. construction spending rose 0.5 percent during October due to gains in homebuilding and government projects.
Spending rose to a seasonally adjusted annual rate of $1.172 trillion and is 3.4 percent above the October 2015 mark, according to preliminary data from the Commerce Department.
Spending in the private homebuilding sector rose 1.6 percent to $466 billion during October, and is 4.7 percent above the year-ago rate. Spending on the construction of single-family homes rose 2.8 percent during October to a rate of $243 billion, while multi-family housing spending also rose 2.8 percent to $64 billion.
Read the full story here.
Mike Brown has never had a job that wasn't in construction. For 17 years, he worked as a general contractor superintendent for a large construction company before venturing out on his own. He started in 1992 with just one backhoe. Now that backhoe – and the desire to make a mark his own way – has resulted in a nearly $5 million a year company with 17 employees.
Those employees, he says, have been the main reason for his success and his steady flow of business.
"I have the best there is in this area," he says. "All are long-term employees. They've been with me for lots of years. The only turnover I have at all is the occasional dump truck driver."
Read the full story here.