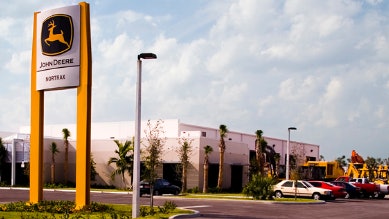 Nortrax, which operates John Deere construction and forestry dealerships in the U.S. and Canada, has added John Fairley to its Used Equipment Division in the company's Southeast Region, and Randy Klug to its sales team in Merrill, Wisconsin.
Fairley most recent worked as the equipment division manager for a heavy highway, bridge and paving contractor. He also spent time as regional sales manager for Ritchie Brothers Auctioneers, general manager for Sure-Way Systems and positions in sales with E&E Equipment Sales and Ditch Witch.

He will be based at the Lutz Nortax location and have responsibility over seven locations in southern Florida with nearly 30 salespeople
"John's knowledge and background in sales and heavy equipment within our used equipment department will make him a great fit moving forward within our organization," says Scott McGuigan, Nortax Southeast vice president. "John will be responsible for all used equipment inventory, marketing and strategic planning of all used John Deere machines and allied products in our area of responsibility in Florida."
Klug will be responsible for heavy equipment and forestry new and used sales in addition to product support. He most recently served as territory manager for Sunbelt Rentals and has worked as a sales manager for Londerville Steel in Wausau, Wisconsin. Klug also has experience as a certified welder and fabricator.
"There are tremendous opportunities within the company, including the new Nortrax Merrill facility opening in spring of 2017, and the overall strength of the John Deere brand with many new machines and technologies," Klug says.
"In an effort to better serve our customers' equipment needs in the Merrill area, we are pleased to welcome Randy as another member of our sales team," says Matt Hanson, Nortrax General Manager. "He brings enthusiasm, as well as sales and technical skills. We expect him to have an excellent impact here on our customer base around the new Merrill store."