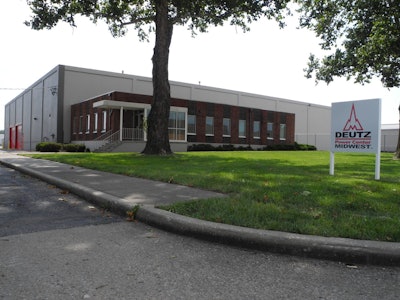 The first Deutz Power Center, which will provide dedicated engineering and technical sales resources to small and mid-sized machinery manufacturers, has officially opened in North Kansas City, Missouri.
"Our staff is in place, and we're looking forward to introducing our suppliers and customers in the Midwest to the new Deutz Power Center concept," says General Manager Dennis Romanson. "It's exciting to be able to offer OEMs and equipment end users better proximity to trained Deutz technicians and engineers."
Deutz Power Center Midwest has 17 staff members to help OEMs using Deutz products in the region. In addition to support, the location will be able to design, engineer and manufacture Deutz-branded engines, and be able to buy new and Deutz Xchange remanufactured engines.
"Creating this DEUTZ Power Center was very important to our overall business, because it allows us to work closely with many of the local area manufacturers across the Midwest," says Michael Wellenzohn, a member of the DEUTZ AG board of management with responsibility for sales, service, and marketing. "Our goal is to ensure that their service and product support needs are fully met."
Deutz says it also plans to open two new Service Centers in St. Louis and Chicago in the near future.