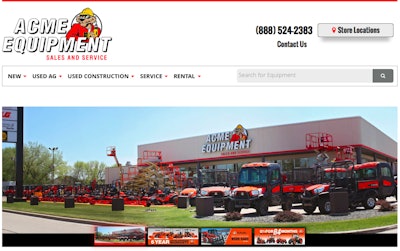 Acme Equipment, headquartered in Grand Forks, North Dakota, has relaunched its AcmeEquipment.com website to provide details on more than 1,000 equipment listings, as well as service and rental information.
The company says visitors to the site can request quotes, make offers, receive free shipping and lender quotes, and ask for a service quote.
The site provides new listings for Kubota, Land Pride, Woods, Sullair, JLG, Diamond C, Avant and Toro construction equipment.
A Kubota Elite Award of Excellence dealer, Acme Equipment has store locations in Grand Forks, Bismarck, Fargo, Minot and Williston, North Dakota, and Bemidji, Minnesota. It also ships to all 50 states in the U.S. The company is a division of Acme Tools.