It's not uncommon when talking to skilled operators for them to talk about how the machine, at some point in their development, began to feel like an extension of their body. That's especially true for excavator operators, who are tasked with quickly operating a giant arm and bucket and with high precision.
But for Norwegian excavator operator Tim Knutsen, who was paralyzed as a teenager from the waist down in a 2006 car accident, his machine is much more than an extension of his body. It gives him an opportunity at a life and trade many would assume was out of his reach.
According to a 2014 report from AT.no, Knutsen works for a small firm in Norway called Jakhelln Construction. The company's slogan is "We make it possible," and CEO Nicolai Jakhelln told the publication that the company has had quite a bit of success bringing on disabled persons. Jakhelln said Knutsen was recommended to his company by a local operator training company, Granlund Resource AS Brandbu.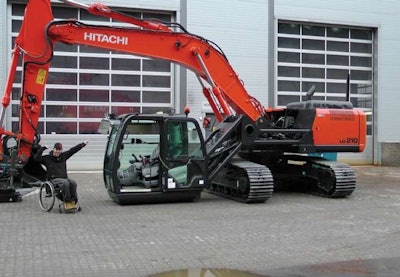 Knutsen, who uses a wheelchair, initially worked in a 5-tonne excavator, but after seeing how capable he was as an operator and how difficult it was for him to get in and out of that first machine, Jakhelln decided it was time for a new machine.
The firm worked with Hitachi dealer Nasta AS to spec out a custom Hitachi ZX210LC-5 for Knutsen. According to an article from Nasta's annual magazine, the excavator is equipped with a hydraulic cab riser with two articulating booms, similar to a material handler. The booms can raise the cab as high as 11.5 feet, but can also bring it down to the ground, allowing much easier entry for Knutsen.
Knutsen starts the excavator through an ignition located in the excavator's frame before lowering the cab to the ground via remote control. Once the cab is on the ground, he grabs a pair of handles and lifts himself into the operator's chair where a four-point safety belt keeps him secure.
"I look like a kid, and I'm so grateful that Jakhelln firm gives me an opportunity," Knutsen told AT.no back in 2014. "CEO Nicolai Jakhelln and the staff is just superb."