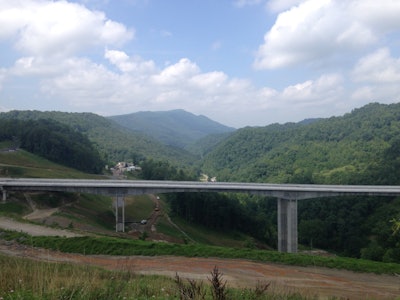 Virginia's two newly opened bridges are also the state's tallest.
The twin 265-foot-high bridges span Grassy Creek and are part of the first phase of the state's U.S. Route 460 Connector between Breaks, Virginia, and Beaver, Kentucky.
The section was completed in 2015 but couldn't open to traffic until Kentucky completed its section of the 460 Connector. The Virginia Department of Transportation and Kentucky Transportation Cabinet coordinated the opening of the connector sections, which occurred November 16.
"Kentucky's milestone of completing a portion of new Route 460 from the state line to near Elkhorn City meant VDOT would be able to open Phase I, greatly improving access for local motorists," says Marty Halloway, VDOT acting major projects program manager.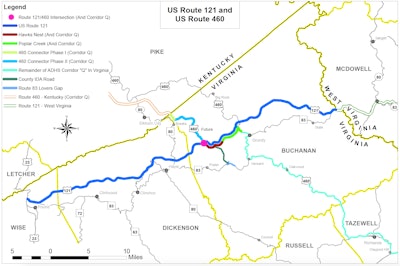 Virginia's section is .8 miles long. The twin Grassy Creek Bridges are 1,733 feet long. The arch bridges consist of cast-in-place concrete segments. The $113 million project also includes an access ramp to Route 80, a bridge across Route 768 and connectors to Route 80.
The second phase of Virginia's 460 connector is partially built. Rough grading for the approximately 10-mile section was completed in Summer 2019. Another 3 miles of construction is occurring on a 460/121 connection. VDOT says these projects will be open to traffic by 2023, from the state line to Route 744 at Southern Gap.
Work on Kentucky's section of the 460 Connector began in 2001 in Pike County. The 16.7-mile four-lane highway stretch runs from U.S. 23 south of Pikeville to Breaks, Virginia.
The new routes are all part of "Corridor Q," designed to open isolated Appalachian coal regions to economic development and better road systems. The corridor also includes West Virginia.
To watch a VDOT video of the opening of the first phase of the 460 Connector, see below: