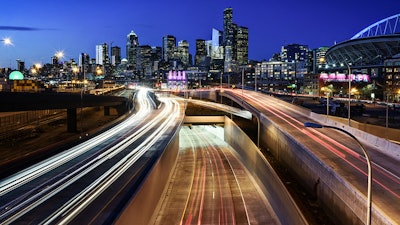 A $3.3 billion project that involved building a new 2-mile tunnel to replace and demolish the Alaskan Way Viaduct in downtown Seattle has won the Grand Prize in the 2020 America's Transportation Awards.
The Washington State Department of Transportation received the national honor for its project to replace the viaduct with the State Route 99 Tunnel. The award is sponsored by the American Association of State Highway and Transportation Officials, AAA and the U.S. Chamber of Commerce.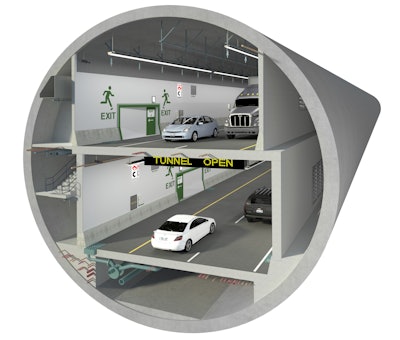 The tunnel is the longest double-deck highway tunnel in the United States, according to WSDOT. It links the Seattle Space Needle and the city's stadiums. It has two lanes in each direction as well as an 8-foot-wide safety shoulder in each direction. It is built to withstand a 9.0 magnitude earthquake. It was dug by the world's largest boring machine, Big Bertha.
The 70-year-old Alaskan Way Viaduct that the tunnel replaces had deteriorated and was deemed unable to withstand a major earthquake. After the new tunnel was completed in 2019, the viaduct was demolished. The $93.7 million demolition involved nine months of removing 1.4 miles of roadway, with no explosives allowed. That included 122,000 tons of concrete, 400 columns and 7,000 tons of steel. The effort was made more challenging due to the viaduct being close to buildings, traffic and pedestrians. The project involved 20 years of coordination with the city of Seattle, King County and the Federal Highway Administration. The concrete from the viaduct was used to fill Seattle's former Battery Street Tunnel, which had linked to the viaduct.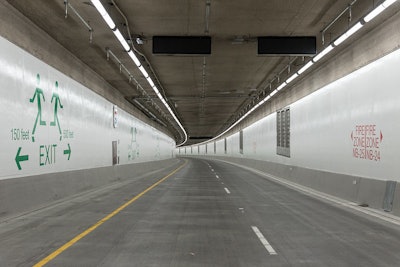 "Now, Seattle's new waterfront is beginning to take shape, with 20 acres of public space, connections to bike and walking paths, and more – improving the quality of life in the city for years to come," AASHTO says.
Check out this Washington State DOT video of the painstaking demolition of the Alaskan Way Viaduct without explosives: