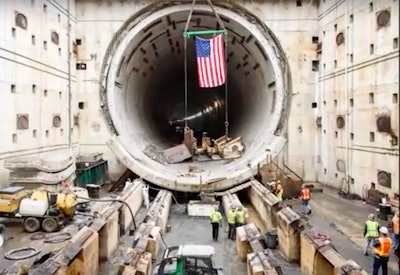 The last piece of Bertha, the world's largest tunneling machine, has been removed from Seattle's SR 99 tunnel, marking the end of a four-month disassembly process.
The machine finished its boring of the tunnel in early April, work that lasted four years. This breakthrough was roughly three years later than the original projected completion date, as the project had been slowed in part due to mechanical issues with Bertha.
These issues and delays for repair work plagued the SR 99 tunnel project for years, resulting in Seattle Tunnel Partners (STP), the primary contractor on the project, filing a lawsuit against the state for more than $200 million, claiming that an overlooked steel pipe left over from groundwater testing done by the state was the cause for the damage to Bertha that brought the machine down in January 2014.
STP crews have been working constantly since April to take Bertha apart to make room for the roadway coming up through the tunnel behind it.
"It was tricky, tough, and impressive work, re-positioning the machine and dismantling its 8,000 tons of steel into pieces small enough to lift by crane or pull back out of the south end of the tunnel," the Washington State Department of Transportation reports. "The largest lift was 70 tons. Larger pieces required additional cutting on the surface before hauling. Hitachi Zosen, the machine's manufacturer, will decide what to do with many of Bertha's components. However, her signature 57-and-a-half-foot steel cutterhead was unique to this project and was cut up and trucked to a local steel recycler. Hitachi Zosen donated pieces of the cutterhead to the Port of Seattle and donated cutting tools and the control panel to Seattle's Museum of History and Industry."
The department expects the tunnel to be finished and open in early 2019.
The video below shows a time lapse of Bertha's removal.