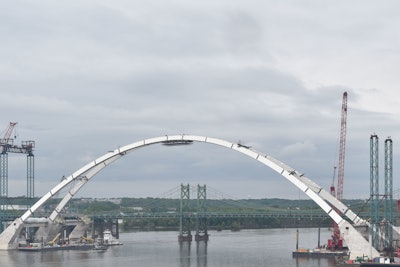 The future I-74 Mississippi River Bridge between Illinois and Iowa now has a freestanding arch in place for the westbound bridge.
The final keystone for the basket-handle arch was fitted May 6, with the help of a Manitowoc 650 crane with a 341-foot boom, according to I-74 Mississippi River Bridge, a joint website of the Iowa and Illinois departments of transportation. The keystone weighs 112.5 tons and is 37 feet-long.
Workers used struts and jacks and cable stays on both sides of the arch to spread apart the arch to fit the keystone.
"A series of surveys measuring every angle of the arch were also conducted to determine how much the arch needed to be adjusted vertically, horizontally, and/or rotationally," according to the bridge website. "After minor adjustments to the arch were made, the keystone was rigged to the crane."
Workers standing at the top of the 236-foot-high arch guided the keystone into place and, working around the clock, secured it with 4,000 bolts. Eventually, after all of the bolts were in place, the cable stays were removed for the arch to stand on its own.
The westbound bridge is scheduled to be completed by the end of the year. The completed east- and westbound bridges will have four lanes in each, twice the width of the current Iowa-Illinois Memorial Bridge. The eastbound bridge is expected to be finished in 2022. Then the Memorial Bridge will be demolished.
Construction began in July 2017 on the $1.2 billion project between Moline, Illinois, and Bettendorf, Iowa.