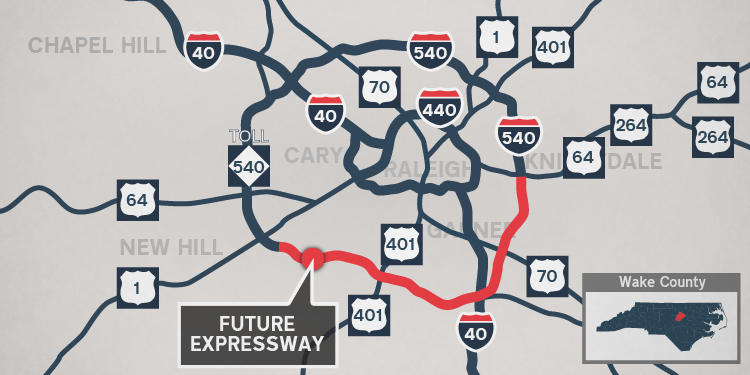 The first phase of a plan to complete an outer expressway toll loop around Raleigh, North Carolina, has moved forward with the selection of a contractor.
The $403 million design-build contract for the first phase of the Complete 540 project went to Lane Blythe Construction Joint Venture of Charlotte. The contract is for extending the Triangle Expressway from U.S. 401 to Interstate 40 in southeastern Wake County.
Construction could begin in 2019 and the road is slated to open to traffic in 2023, according to the N.C. Department of Transportation. The expressway will eventually extend 28 miles from the N.C. 55 Bypass in Apex to the U.S. 64/264 Bypass (I-495) in Knightdale. The estimated total cost is $2.2 billion, according to NCDOT.
It is planned in three phases. The next phase would be to award a contract for the N.C. 55 Bypass to U.S. 401 section, scheduled for spring or summer. The contract for the final phase, from I-40 to the U.S. 64/264 Bypass, is scheduled for 2027, according to NCDOT.
The plan is to build a six-lane freeway to ease commuter traffic south and east of Raleigh and connect with the existing 18.8-mile N.C. 540, which became the state's first modern toll road in 2012, according to the N.C. Turnpike Authority. It is also designed to add traffic capacity to the rapidly growing area.
Environmental groups are fighting the extension, citing potential harm to endangered mussels in a nearby watershed.
To watch a conceptual video of the future Triangle Expressway extension, see below: